Europa Nostra, the European Voice of Civil Society committed to Cultural and Natural Heritage, in partnership with the European Investment Bank Institute (EIB) and the support of the Creative Europe programme, has launched the call for the "7 Most Endangered Programme 2023", the civil society campaign to save Europe's endangered heritage.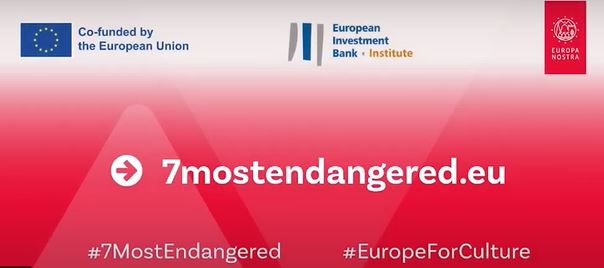 The campaign aims to rally support to save selected endangered sites by raising awareness, making independent expert assessments and proposing recommendations for action.
In addition to this it offers direct support: includes the possibility for the 7 selected sites to receive an EIB Heritage Grant of up to 10.000 euros to start the implementation of actions, studies or assistance measures for the threatened site.
The call for nomination will be open until 15 September 2022 and it is available at https://www.europanostra.org/wp-content/uploads/2022/06/7ME2023-Call-for-Nominations.pdf
All nominations will be examined by an international advisory panel, comprising specialists in history, archaeology, architecture, conservation, management and finance.
The monuments and sites are selected taking into account the following criteria:
Heritage and cultural value of the site
Imminent danger the site is facing
The engagement of local communities and the commitment of public and private stakeholders to saving the site
The potential of the site to act as a catalyst for a sustainable socio-economic development of the area.
The final list of 7 most threatened heritage sites in Europe is selected by the Board of Europa Nostra and will be announced in March/April 2023.
For online submissions: www.7mostendangered.eu