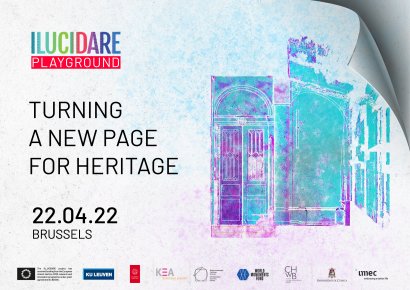 ILUCIDARE is a three-year project, started in 2019, supported by the Horizon 2020 Framework Programme of the European Union. The purpose of the project is to promote heritage as a resource for innovation and international cooperation.
ILUCIDARE's activities aim to provide interactive learning opportunities to exchange knowledge, and to establish an international network with stakeholders and practitioners through face-to-face activities and international awards.
Next 22th April, the ILUCIDARE Playground will be held in Brussels, with a full programme of speeches and panel discussions, to share reflections and practical experiences from the three-year ILUCIDARE activities.
The event, which can also be followed online, will focus on the ILUCIDARE tools to support heritage-led innovation and international relations in future policy actions and cooperation projects.
Participants will be able to discover the Innovation Handbook and the International Relations Display, play with the Inspirational kits and the Capacity Building roadmap.
Besides this, they will have the chance to engage with the ILUCIDARE community to debate policy recommendations.
During the event, the winner of the ILUCIDARE Challenge (the international competition focused on interdisciplinary and international collaborations, to reward creative ideas and changemakers worldwide working on heritage, innovation and international cooperation) will be declared.
Find out more about the event at https://ilucidare.eu/index.php/news/ilucidare-final-playground-brussels-online