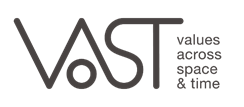 The H2020 VAST project, member of UNCHARTED community, launched a survey that hopefully will lead to a collaboration with Europeana.
The project aims at studying the transformation of fundamental European values by tracing and connecting the values of the past (preserved in documents from different Countries and periods of European history) with the one of the present. The research is carried out with the collection and the digitization of the different manners through which the values are conveyed today in cultural activities and through the analysis of the way in which they are perceived by the audiences.
This questionnaire, realised by the "Istituto e Museo di Storia della Scienze (IMSS)", Italy, has the goal to understand how the actors involved in the communication of the values (i.e. museum curators, museum educators, scholars, directors, artists, creative teams and other stakeholders related to the communication of values) perceive the role that cultural Institutions play in the dissemination of these values.
In addition, the survey aims at analyzing the users' expectations regarding the availability of a project platform and digital tools that can help the analysis of the values, their research and communication.
Access the survey (estimated time 10 minutes) via https://platform.vast-project.eu/research-cultural-institutions-role/