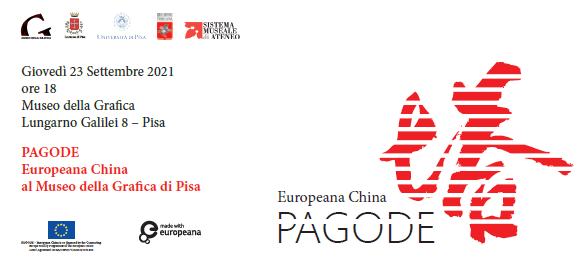 img. from the event
All photos by Rudy Pessina.
As a complementary event in the framework of PAGODE final conference, an exclusive invite-only meeting at the Museo della Grafica in Pisa was organized on 23rd September 2021, to present the two major outcomes of the project: the virtual exhibition China in Perspective, showcasing gems of chinese heritage preserved by renowned European cultural heritage institutions, and the prestigious book that accompanies the exhibition.
The project coordinator dr. Mauro Fazio of the Italian Ministry of Economic Development, the technical coordinator dr. Antonella Fresa of Promoter s.r.l. and the Museum's director prof. Alessandro Tosi met with a selected number of stakeholders to share thoughts, experiences and impressions from this exciting project, that highlights Chinese heritage in Europe via Europeana, the digital gateway to European cultural heritage collections. Remote participation of Sofie Taes, curator of the China in perspective exhibition, allowed participants to get a glimps of the concept and rationale which drove the creation of the exhibition and the corresponsing chapter in the book.
Discover Europeana China feature page
---
PAGODE – Europeana China is co-financed by the Connecting Europe Facility Programme of the European Union, under GA n. INEA/CEF/ICT/A2019/1931839