With the WEAVE 3D Modelling LabDay fast approaching, scheduled for October 1, 2021 from 10-11GMT, the WEAVE team is pleased to introduce the University Nova Lisboa (UNL), located in Portugal.
UNL is one of the two public Universities located in Lisbon and it is the best ranked Portuguese university in QS Ranking 50 under 50 (36th). NOVA is committed to the construction of the European Higher Education Area and all its courses are organized under the principles of the Bologna Agreement. The university includes, besides the Rectorat, 5 Faculties (Science and Technology; Social and Human Sciences; Business and Economics; Medical Sciences; Law), 3 Institutes (Tropical Medicine; Technology and Biochemistry; Statistics and Information Management) and 1 School of Public Health. It offers graduate courses (1st cycle), masters (2nd cycle), doctoral courses (3rd cycle) and postgraduate courses covering a comprehensive array of fields of knowledge.
With more than 19,000 students, 1,100 academics and 500 non-academic staff, NOVA is an active member of UNICA and YERUN networks and has a consolidated experience within European programmes, such as Tempus, Erasmus and Erasmus Mundus, as well as it is involved in cooperation with North-American, African and Brazilian universities. These partnerships are expanding the initiatives of joint degrees and also of R&D projects and competitiveness.
Research at NOVA has been growing and developing, both at quantitative and qualitative levels. Universidade NOVA de Lisboa hosts 40 Research and Development Units (R&D Units), 15 of which are research partnerships between NOVA and other national institutions. In 2013, the Portuguese Foundation for Science and Technology (FC&T) evaluated 75% of the R&D Units with "Exceptional", "Excellent" or "Very Good". These results were way above the national average of Portuguese Universities.
Within the WEAVE project, the UNL team will offer technical and scientific expertise, leading on the MotionNotes development, a digital and open web-based video annotator for both video streams and recorded videos, which focuses on the annotation of movements, targeting dance and performance professionals. MotionNotes has been developed within the CultureMoves Generic Services project.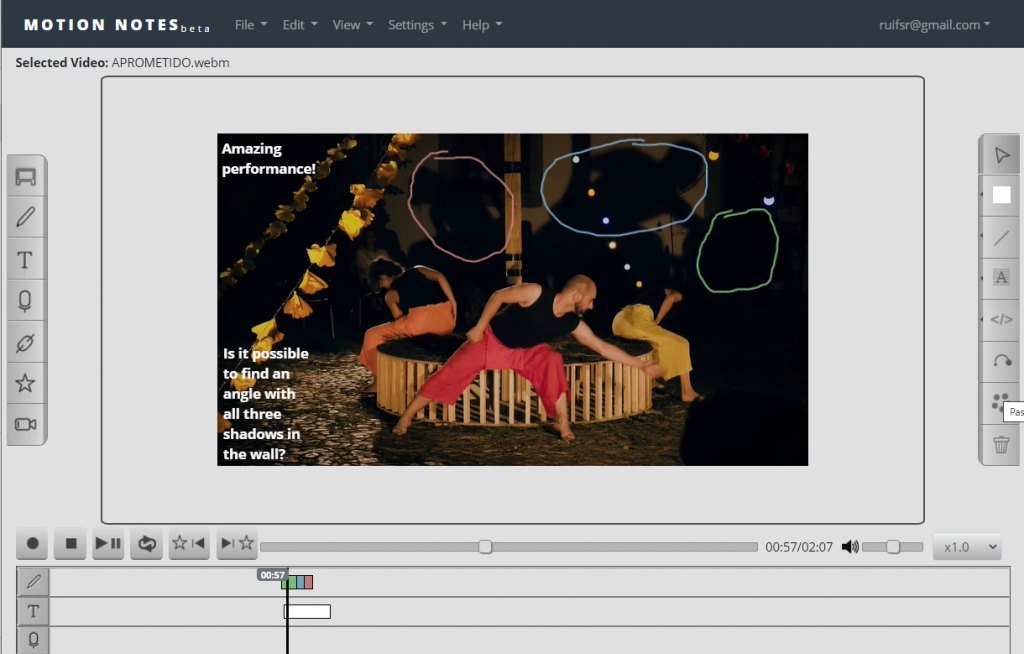 The current version of MotionNotes allows only for manual annotations. In WEAVE they will integrate innovative ML/AI algorithms to perform semi-automatic recognition of specific gestures and movements (dance steps, for instance), outputs which can be used to identify Europeana videos containing dance or be re-used outside the toolbox as a software library and dataset. Moreover, MotionNotes will be extended to allow annotations in 3D space, representing information about what the performers are doing, and also about where they are in the physical space, along with their moving patterns. For the visualization of the performance space, images and 3D models will be used, thus opening up new possibilities of re-using 3D content of Europeana. MotionNotes will be a 3rd. party hosted tool that will connect with Europeana CSP via Europeana APIs.
The team includes Carla Fernandes, Nuno Correia, Stephan Jürgens, Rui Rodrigues and João Diogo.
Carla Fernandes (f) is invited Professor and Principal Investigator at FCSH – NOVA University Lisbon, head of the European Research Council-funded BlackBox Lab on Arts&Cognitionat FCSH – Universidade NOVA de Lisboa. The project title is "A collaborative platform to document performance composition: from conceptual structures in the backstage to customizable visualizations in the front-end". Previously she was Principal Investigator of the "TKB project" (A Transmedia Knowledge-Base for performing arts) funded by the National Foundation for Science and Technology in Portugal and Research Partner in EU-funded projects ("Inside Movement Knowledge", "LABO 21", "Europeana-Space" or "CultureMoves" more recently) at the crossings of Arts&Science and the digitalization of intangible Cultural Heritage. At present her research focus is in the intersection of Linguistics, Cognitive Science, Gesture Studies and the Performing Arts (from cognitive and ethnographic perspectives), particularly concerning the annotation of multimodal corpora in dynamic digital archives for the analysis/documentation of contemporary dance. Supervisor of 7 PhD theses; scientific consultant for dance-related structures in Europe, Brazil and Mozambique; author of numerous papers and book chapters in international peer-reivewed publications.
Nuno Correia is a Full Professor at NOVA. He is the coordinator of the Multimodal Systems area of the NOVA-LINCS research unit. Nuno Correia is currently the coordinator of the PhD program in Computer Science and the FCT NOVA coordinator of the PhD program in Digital Media. His research interests cover several aspects of interactive multimedia, creativity, cultural heritage and digital arts. He was a researcher at Interval Research, Palo Alto, CA, and a researcher at INESC, Portugal. He participated in several EU funded research projects (recently the EC funded H2020 project Cognitus and the Connecting Europe Facility (CEF) CultureMoves) and evaluated national and international projects. Current work, supported through national projects and new EU projects (T-Factor, CRAFT, WEAVE), includes video archives, mobile image processing, AR and VR, multimodal interfaces for exploring art collections, and art+technology initiatives . Nuno Correia supervised 14 doctoral theses and about 60 master theses already completed and currently supervises several doctoral and master dissertations. He is the author or co-author of more than 100 publications in journals, conferences and books. Nuno Correia is a member of the board (FCT NOVA representative) of the recently launched NOVA Institute of Arts and Technology.
Stephan Jürgens holds a PhD on Contemporary Choreography and New Media Technologies. His research interests concentrate on designing creative strategies for live performance involving interactive systems. He has been teaching movement research, interdisciplinary choreography and interactive system design in many different learning environments and institutions for many different people ranging from interested beginners to professional performers and MA/PhD students. He collaborated on several international research projects, such as TKB, BlackBox Arts&Cognition, and Moving Digits, all of which investigate the use of recent technology in Contemporary Dance and Live Performance. As a choreographer he has presented several works supported by the Portuguese Ministry of Culture. His collaborative digital performance work .txt won the national multimedia prize in 2010. Author of several papers and book chapters in international and national publications.
Rui Rodrigues is a PhD Student in Computer Science at NOVA LINCS and the Computer Science Department of the Faculty of Science and Technology of the NOVA University Lisbon. He is a Teaching Assistant at the Department of Systems and Informatics of the Setúbal School of Technology of the Instituto Politécnico de Setúbal, where he teaches classes about web development and service-oriented architectures. His research interests cover several aspects of web technologies, interactive multimedia and HCI. He was an IT professional for nine years, where he developed software and managed software development teams. Recently he finished participation in the project CEF CultureMoves, and now he joined the ongoing project CEF Weave.