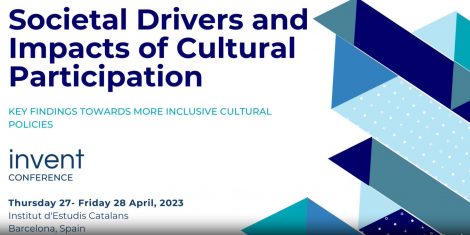 From 27th to 28th April 2023 the final Conference of INVENT takes place at Institut d'Estudis Catalans, in Barcelona, Spain.
INVENT is the acronym of "European Inventory of Societal Values of Culture as a Basis for Inclusive Cultural Policies in the Globalizing World". It is a research and innovation project funded by the Horizon 2020 Programme, coordinated by Erasmus University Rotterdam. The scope of the conference is to highlight the culmination of the international research conducted by the project about the societal value of culture and the impact of cultural policies in Europe.
The final conference will be a two days event to show the results of the project, with the participation of several team members and outside speakers who will discuss about societal drivers and impacts of cultural participation.
Program and registration are available here https://inventculture.eu/2023-invent-conference/
INVENT participates in the UNCHARTED Community.