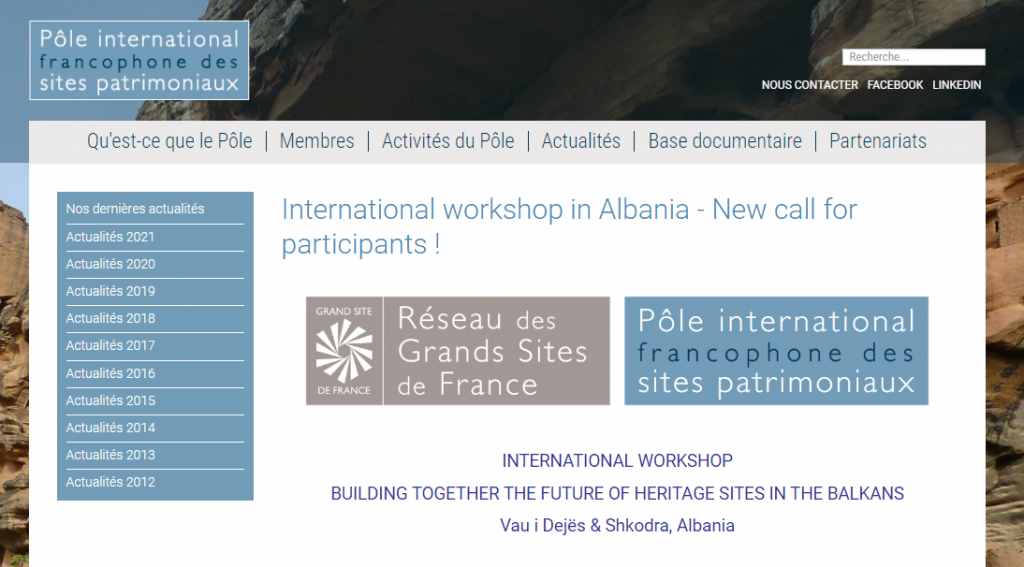 Building together the future of heritage sites in the Balkans
Vau i Dejës & Shkodra, Albania
14-17 November 2022
Three-and-a-half days exchange workshop about heritage sites sustainable management in the Balkans, based on case studies and shared experiences. The plenary sessions will take place in the municipalities of Vau i Dejës and Shkodra. There will be a full day on the field at Komani site. The closing session will take place during an official event in Tirana.
The Grands Sites de France network, of which INCULTUM partner BIBRACTE is an active member, is an organisation that brings together local authorities responsible for both day-to-day operations and long-term evolution of the most remarkable protected landscapes in France. Since 2010, it manages the International Centre for training and exchange of francophone heritage site managers.

This seminar in Albania is s co-organized by the Franco-Albanian archaeological mission of Drin Valley, the municipalities of Vau i Dejës and Shkodra, as well as the Réseau des Grands Sites de France (RGSF), in collaboration with the Grand Site de France Bibracte-Morvan des Sommets, the French Embassy in Albania and the partners of the RGSF's International Francophone Centre. Albanian partners of the INCULTUM project CeRPHAAL and the Municipality of Permet will also take part in the event.
Context and goals
The municipalities of Vau i Dejës and Shkodra are committed to a project to create a protected area in order to enhance the diversity of Komani heritage resources (landscape, archaeology, vernacular heritage, etc.). Based on Komani case study and on the Grands Sites de France approach, the workshop intends to feed discussion about integrated management of heritage site in Albania and more broadly in the Balkans. It will also discuss the experience acquired within the Grands Sites de France national policy (coordination between preserving heritage value of sites and managing tourist flows, stimulating a socio-economic impact on the area, urban sprawl, etc.).
More information about the event and registration: http://www.polepatrimoine.org/actualites/nos-dernieres-actualites/169-registration-open-international-workshop-albania-2