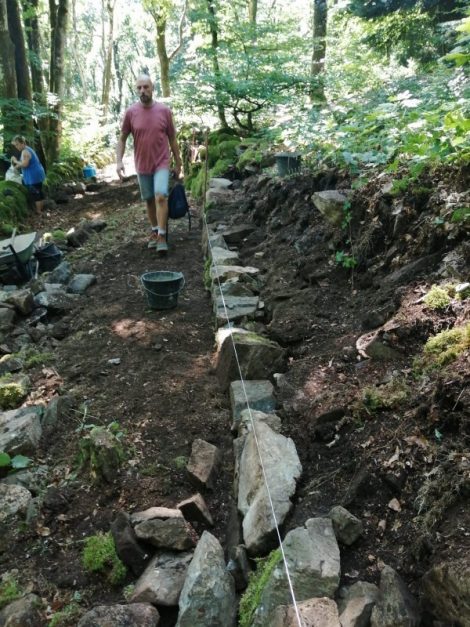 Pictures @Bibracte/Flore Coppin – 2023
Participants in the "landscape and heritage" work camp have successfully completed the restoration of the ancient path of the Place aux Laides on Mont Beuvray.
From 20 August to 2 September 2023, young volunteers of Rempart, an NGO working to safeguard and restore exceptional or vernacular heritage, have participated for the second year in a "landscape and heritage" summer workcamp at the Grand Site de France Bibracte – Morvan des Sommets.
This "landscape and heritage" work camp is part of the pilot-project led by Bibracte in the frame of INCULTUM to enhance the more than 1,100 km of rural paths that criss-cross the territory of the Grand Site (400 km2). Carried out in collaboration with the partners of the Grand Site de France label, it aims to develop and promote an innovative tourist offer in the area, combining outdoor activities, discovery of the heritage and cultural activities.
The objective of this programme was to restore a section of about 600 meters of low dry-stone walls bordering an old trail on the southern flank of Mont Beuvray in the sector known as "Place aux Laides".
You can download here the Information sheet.