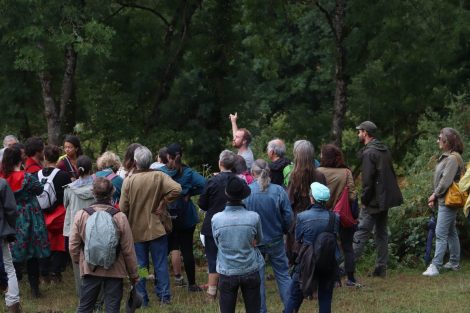 Pictures @ Claude Artier 2023
For the past 16 years, the yearly conference Entretiens de Biracte-Morvan (Bibracte-Morvan Talks) aims to debate the challenges facing the territory with the help of scientists and, for the latest editions, the mediation of artists. The conference is open to everyone. It explores subjects as the notions of Commons, climate change, solidarity between humans and non-humans and agro-ecology, etc., and it questions these notions in a practical way through sessions organised in the field. Thanks to the Entretiens, the territory and its actors have thus built up over the years a shared cultural reference system that enables a shared territorial project to be developed further.
On 15 and 16 September 2023, the 17th edition of the Talks explored the notion of heritage and the involvement of artists in building a territorial project in the face of climate changes. Lectures, walks and meetings in the forest, sharing of experiences and engaged debates gathered more than 100 participants.
The Grand Site de France of Bibracte – Morvan des Sommets brings together residents, elected representatives, cultural players, those responsible for preserving natural landscapes, entrepreneurs and researchers concerned with the changes affecting agriculture, forestry and water management. It is a territorial laboratory for experimentation, where research-action programmes take place in a wide range of fields to question and analyse the conditions under which the territory can be inhabited, and how people can live together.
For this edition, organisers proposed to debate on how can artists become part of a local project while playing a role in the changing world. At a time when humanity is facing the unprecedented and vital challenge of climate change, can the arts and culture succeed in cultivating the attachment of local people to their region, and thus become levers for territorial transformation? How can artists encourage local people to form an active heritage community?
The initiative is part of the INCULTUM project funded by the Horizon 2020 Programme of the European Union.
You can download here the Information sheet.