The University of Algarve's research team started the INCULTUM Pilot in south Portugal by holding, in Faro on 11th May 2021, a Seminar on "Cultural Landscape, Hydraulic Heritage and Sustainable Development".
Aimed at engaging the academic community, other stakeholders, and the population in general, INCULTUM project and the Portuguese Pilot in particular were presented since the beginning of the Seminar.
Discover More about the Pilot 2 Agrarian coastal plain: Campina de Faro.
View the event's poster (PDF)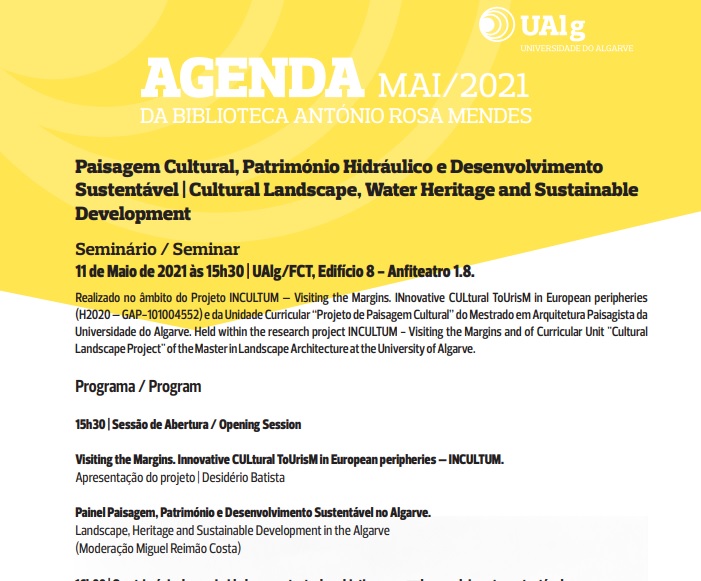 The Seminar included talks by various participating speakers, namely researchers, senior technicians from the municipal and regional public administrations and, also, directors of tourist companies, about the following topics, all relating to the promotion actions to be deployes for supporting tourism in the area:
Proximity Heritage in the context of sustainable goals
The Hydraulic Heritage in the Algarvean Landscape: Research and inventory
Campina de Faro (the area of our pilot): Perspective from the Inventory of Faro's Charter of Heritage
Historical irrigation systems of the agrarian coastal plain
Paths of Knowledge and Leisure: Building a Pathway
The Seminar served as a space for reflection and debate on the landscape and water heritage in the area covered by the Pilot case, and the role and importance that they may have in the context of a proposal for cultural routes associated with cultural tourism.
Discover all the INCULTUM Pilots: https://incultum.eu/pilots/
---