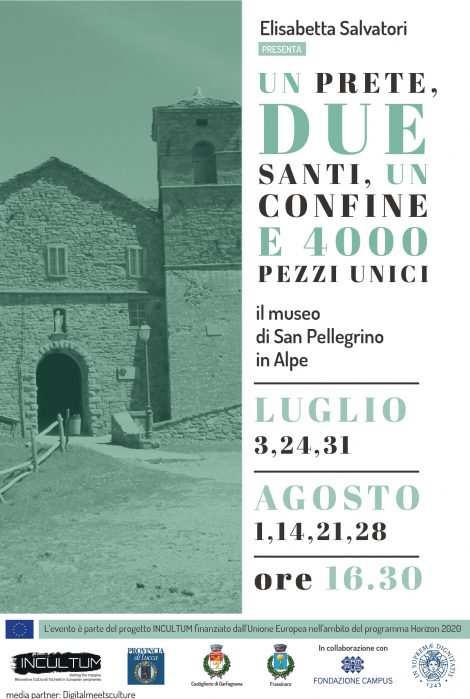 One of the Pilots of the INCULTUM project, aiming and empowering sustainable cultural tourism in peripheral areas with communities engagement, is coordinated by the University of Pisa and is set in the beautiful landscape of the Garfagnana in Tuscany. Crowned by a beautiful landscape, the small village of San Pellegrino in Alpe offers a varied touristic and cultural offer, including a small but very nice Ethnographic Museum.
On 3rd July 2022, in presence of local authorities and a nice audience, the inaugural event took place for a series of performances that aim to relive the memory of this community and its territory through a storytelling approach, realized in collaboration with the local Ethnographic Museum. The play is entitled "Un prete, due Santi, un confine e 4000 pezzi unici" (a priest, two saints, a border and 4000 unique pieces) by actress Elisabetta Salvatori, and will tell the stories of old traditions in this heritage territory.
The scope of this action is to reconnect the touristic offer of the location, that is mostly appreciated for the landscape and the possibilities of sports and trekking, with the peculiar aspects of the cultural and historic heritage of the community, that is well documented in the Ethnographic Museum. The storytelling approach, unfolding in a series of performances, is exaclty intended to engage tourists passing in the area.
Preview: 3rd July
Shows: 4, 31 July, 1, 14, 21, 28 August
Discover the INCULTUM Pilot set in Garfagnana: https://incultum.eu/pilots/5-garfagnana/
---