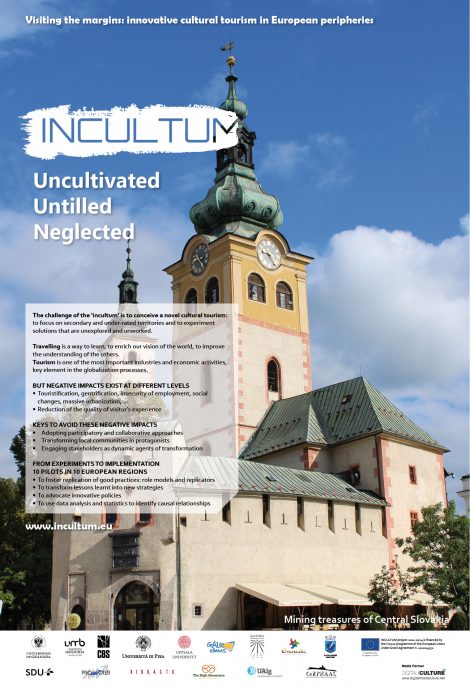 Matej Bel University is coordinating the INCULTUM Pilot 3 Mining Treasures of Central Slovakia to improve the touristic and cultural promotion of this region, which has significant cultural and technical heritage related to its mining history.
As part of this work, a new website "Mining Treasures of Central Slovakia" was developed in the Pilot to collect and showcase information and other services to promote the area and its touristic offer: in the context of this action, a training for creating content to be used in this participatory platform was offered to the students of the University, in the period September – December 2022.
Creating the content of an interactive platform is a rather demanding process, which includes: preparation of text obtained from several sources (books, articles, websites, meetings with the community), photography and editing of photos, obtaining information about entrance, opening hours, time required, track length, restrictions, etc. Furthermore, it is necessary to obtain the exact location using Google Maps and the coordinates, which must be verified directly in the field. The content of the interactive platform is created in a participatory manner with the participation of students, representatives of partner organisations, and scientists involved in the project.
For this purpose, we created sharepoint with a clear structure that meets the needs of creating participative content on the platform. The first group of 18 students from Matej Bel University in Banská Bystrica received training on creating content for the participatory platform Mining Treasures of Central Slovakia in September 2022. We divided content creation into three groups corresponding to activities at the platform and their division is based on time requirements for content creation. The first group presents the activities that are the most time-consuming; this includes museums, galleries, churches, calvaries, etc. The second group of activities presents activities with less time consumption; this includes mainly houses and bastions connected to mining heritage. ù
For both groups of activities, it is necessary to go directly to their location and do the field work like visiting heritage sites, collecting data, information, GPS coordinates and pictures. The third group of activities is related to events and creation of basic content for regular events related to mining heritage in Central Slovakia.
In the first stage of field work 18 students were involved and they created original content for a total of 54 activities mainly in area of Banská Bystrica and Špania Dolina. The next stages of field work are planned for 2023 in all mining treasures localities in central Slovakia.
Number of students trained: 18
Number of activities (items) with original content created for the platform: 54
Language: Slovak
---