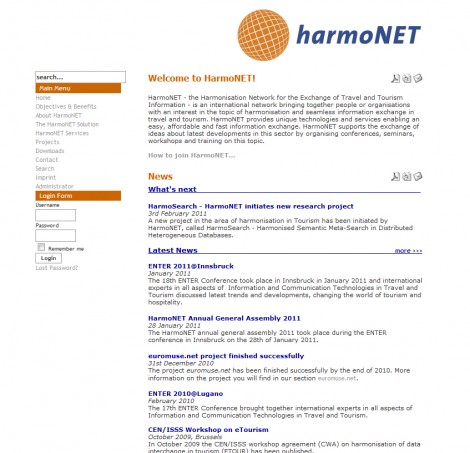 The Harmonisation Network for the Exchange of Travel and Tourism Information, in short HarmoNET, is an open, not-for-profit network which invites all those who are interested in the usage as well as the further development of the unique services based on the Harmonise technology. HarmoNET is open to everybody, single persons as well as organisations.
HarmoNET has been founded in 2006 as a successor of the Harmonise and Harmo-Ten project. Currently HarmoNET has more than 30 members from the IT and tourism industry and research, bringing to the project well-known organisations like the European Travel Commission (ETC), Tiscover, the Travel Technology Initiative (TTI) and the United Nations World Tourism Organisation (UNWTO) and many more.
Some of the members are also participating in this project, like [x+o], eCTRL, EC3 Networks and CPR. They have all a track history in the development of harmonisation and mediation technologies and contribute actively to the ongoing development and improvement of the Harmonise solution and related services.
HarmoNET is participating without any personnel, since all of the work is done on a voluntary basis. But the participation of HarmoNET is important for the uptake and dissemination of results and has a vital role in the future market rollout. Members of HarmoNET participate in all major scientific and industry events and help actively promoting the new products and services.