E-Space Creative Marketing Workshop - event in Pisa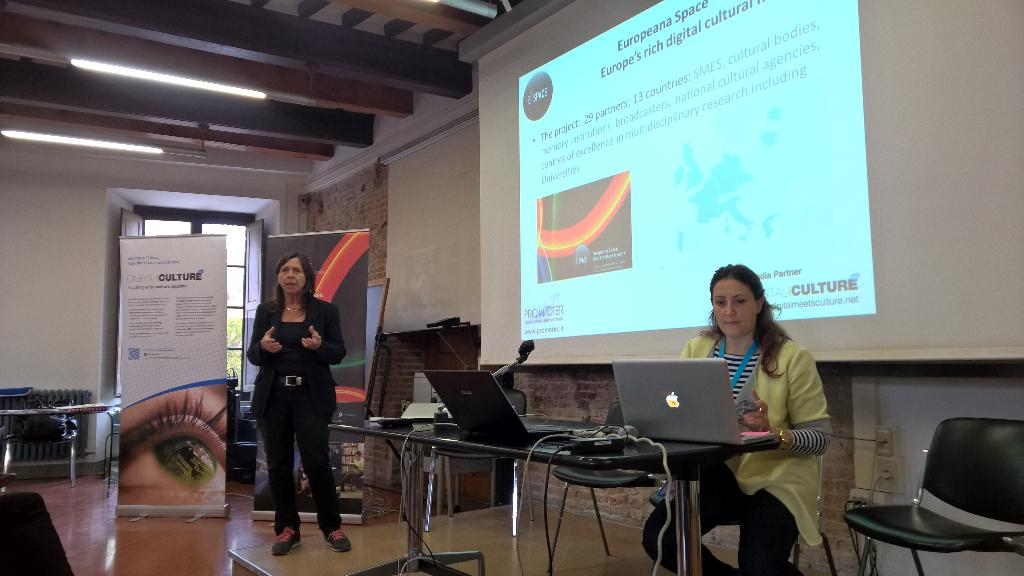 Organized by Fondazione Sistema Toscana, this Europeana Space Creative Marketing workshop was focused on exploring different ways of communicating cultural contents with the use of new media and will show how a greater audience can be reached by combining the power of social media and storytelling.


It has been an interactive event, preceded by presentations of interesting speakers. Antonella Fresa, the Technical Coordinator, presented the Europeana Space project and framework (download PDF, 1 Mb, video above). Then Costanza Giovannini of FST presented examples of places marketing and territory communication via the projects Play Your Tuscany and Unraveling Jordan (download PDF, 6 Mb and please see the video HERE). Later, Marianna Marcucci and Barbara Marcotulli of Invasioni Digitali presented the co-creation session (download PDF, 2.8 Mb and please see the video HERE).



After the presentations, participants were divided in groups. Each group was assigned a tutor and a specific theme to develop. The groups then got out the conference room and went around in Pisa centre, to collect materials (pictures, video, ..) with their smartphones around the city. The collected contents was then elaborated by each group and presented to the others. The event closed with a conclusion speech on audience engagement by Jasper Visser (dowload PDF, 11 Mb and please see the video HERE).

The workshop was realized in cooperation with Invasioni Digitali, and took place in the framework of the Internet Festival in Pisa. Digital Meets Culture was the official media partner of the workshop.





Agenda

09:00 – Europeana Space – creative re-use perspectives for cultural heritage – Antonella Fresa, Promoter srl: download PDF, 1 Mb, video above

09:30 – Communicating a territory through new media:  Play Your Tuscany and Unraveling Jordan - Costanza Giovannini, Fondazione Sistema Toscana: download PDF, 6 Mb and video HERE

10:00 – Co-creation, co-design and storytelling in the digital world – Marianna Marcucci, Fabrizio Todisco, Invasioni Digitali: download PDF, 2.8 Mb and video HERE).

10:30 – Hands-on session – Elaborating creative strategies for audience development

14:00 – Co-creation session

15:30 – Presentation of the projects developed in the hands-on session and discussion

16:30 – Online marketing and audience development for cultural sector – Jasper Visser, Inspired by Coffee: dowload PDF, 11 Mb and video HERE)

17:00  - End of event