Citizen science for cultural heritage: ECSA webinar


What kind of citizen science initiatives take place in the cultural heritage field?


How cultural heritage contributes to citizen science and civic engagement in general?


What lessons can be drawn for the relevance of social sciences and humanities to citizen science?



On October 26 (16h-17h CET), it is organized a webinar "From mainstream citizen science to new conceptualizations: insights from the cultural heritage sector" to discuss these topics.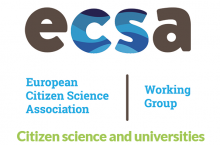 The event belongs to a series of webinars of the European Citizen Science Association (ECSA) and its Working Group "Citizen science and universities".

It is co-corganised by the team of the Erasmus+ KA2 project CitizenHeritage: Citizen Science Practices in Cultural Heritage: towards a Sustainable Model in Higher Education and the discussion will unfold through a nexus of three presentations,all downloadable as PDF:



Fred Truyen, KU Leuven.  "CitizenHeritage: giving citizens a voice in Heritage studies" - PDF


Katerina Zourou, Web2Learn. "Review of practices of Higher Education engagement in citizen enhanced open science in the area of cultural heritage" - PDF


Trilce Navarrete, Erasmus University Rotterdam. "Measuring the benefits of civic participation in academic research" - PDF