Volterra presents Design Alabastro 2022



The "Design Alabastro 2022" project was presented today in Volterra as part of Volterra 2022 First Tuscan City of Culture, studied by UNCHARTED as a main case of WP5 experimental and demonstrations 

With this project 11 national designers and 11 Volterra's alabasters will confront each other for the creation of a  new artistic collection mixing skills of style and craftsmanship to  give life to a regeneration of the practice of alabaster, in a dialogue between tradition and contemporaneity.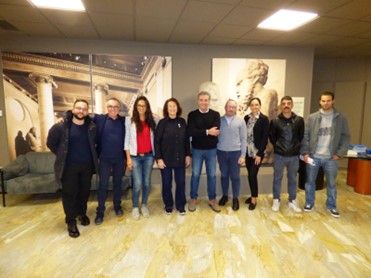 The project, conceived by the architect and designer Luisa Bocchietto, WDO's senator (World Design Organization), was created in collaboration with the Volterra Alabaster Community and in partnership with the North-West Tuscany Chamber of Commerce.  Among the objectives of "Design Alabastro 2022" is to enhance the entire alabaster production process  from design to processing, to get to the realization of the finished object.

The "Design Alabastro 2022" project is a concrete example of creating the value of alabaster culture, an expression of identity of the territory strongly acclaimed all over the world, as a result of the strategic planning of cultural policies.

Visit https://volterra22.it to find out more about the initiatives organized in the coming months to enhance the great cultural, artistic and historical heritage of Volterra.