International Conference on Digital Preservation (iPRES) 2015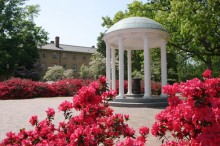 iPRES is the premier international conference on the preservation and long term management of digital materials. The iPRES 2015 will be held on November 2-6, 2015 in Chapel Hill, North Carolina. Contributions are currently being sought that present research and innovative practice in digital preservation.

The iPRES 2015 conference is seeking contributions from research and innovative practice in digital preservation.

The conference site is:
http://ipres2015.org

This call is available at:
http://ipres2015.web.unc.edu/call-for-contributions/

Author information and guidelines are at:
http://ipres2015.web.unc.edu/author-info-guidelines/



Contribution topics




iPRES 2015 welcome contributions that address at least one of the following topics:

1. Institutional opportunities and challenges







local, regional and national approaches


legislative context and requirements


institutional contexts for preservation


collaboration and alignment


collection content profiling


research data management


personal archiving


documenting authenticity and integrity


demonstrating benefits and incentives


providing and documenting added value


evaluating options: products, tools, registries, services, service providers


exploring the potential of bartering



2. Infrastructure (organizational and technological) opportunities and challenges



intelligent and secure storage


scalability


complex formats


large web data sets


software and hardware dependencies


system architectures and requirements


distributed and cloud-based implementations


digital forensics


standards-based practice



3. Frameworks for digital preservation



models


standards and practice


core concepts


business models


sustainability and economic viability


4. Preservation strategies and workflows


preservation strategies (e.g., migration, emulation, normalization)


preservation metadata management


preservation planning and action


archival storage and archival packages


acquisition, ingest, and submission packages


long-term access management and dissemination packages


measuring and mediating risks


content-specific approaches (e.g., GIS, digital art, audiovisual, research data, web-based content, models)


5. Innovative practice


implementations


repositories


issues and wins


lessons learned


the future of digital preservation


6. Training and education


educational needs


evaluating curricula and impacts


innovative offerings


support for lifelong learning


career management


Program strands


iPRES 2015 is being structured around two key strands - research and innovative practice. Papers are invited for both strands.

The purpose of this distinction is to promote work from both a research and innovative practice perspective and work that is clearly rooted in the actual experience of institutions undertaking digital preservation. We expect that there will be work that manages to encapsulate both of these strands, and that is welcomed.

All papers for iPRES 2015 should:



be leading edge


be innovative


help inform debate around what digital preservation is.