e-AGE18, Amman, Jordan, 2-3 December 2018
Amman – Under the patronage of HE the Minister of Education, Higher Education and Scientific Research, and chaired by H E Dr. Talal Abu-Ghazaleh, the "8th International Platform on Integrating Arab e-Infrastructures in a Global Environment" and the "10th Annual Conference of the Arab Organization for Quality Assurance in Education" concluded their activities on 3 December 2018. Academics, scientists, experts, and representatives of institutions and research and education networks in Europe, America, Africa and Asia.
Video links for the sessions and presentations HERE
PHOTO GALLERY at Dropbox HERE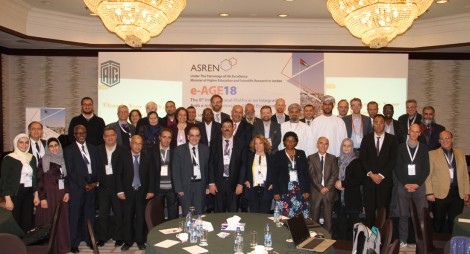 The meeting was attended by HE Mr. Sami Al-Salaita, Secretary General of the Ministry of Education, HE Dr. Sabri Saidam, Minister of Education and Higher Education in Palestine, HE Dr. Duaa Khalifa, Director of the Department of Education and Scientific Research, League of Arab States, HE Mr. Andrea M. Fontana, the EU Ambassador to Jordan, and Dr. Abdel Rahim Al-Hunaiti, Assistant Secretary General of the Association of Arab Universities
HE Dr. Talal Abu-Ghazaleh, Chairman of the Arab States Research and Education Networks and the Arab Organization for Quality Assurance in Education, acknowledged the role of the European Union in co-funding high speed networks in the context of EUMEDCONNECT and AFRICACONNECT projects. These networks have contributed to supporting research and education in the Arab region through interlinkage to the European GEANT research and education network.
A cooperation agreement was signed with the Palestinian Ministry of Education and Higher Education for cooperation to launch education for innovation in schools. Other cooperation agreements were also signed with the research and education networks in Morocco and Tunisia to establish high speed links for research and education and linking to ASREN POP in London.
A number of case studies have been presented on the status of national and regional research and education networks and their importance in supporting research communities. The development of a comprehensive Arab regional e-infrastructures is needed to advance research and provide access to computational resources and repositories.
Research and networking priorities have been identified, including the development of services, coordination with regional e-infrastructures, and enhanced research and education cooperation in various areas among Arab countries and regional communities in Europe, the United States, Canada, Latin America, Africa.
Website: http://asrenorg.net/