Winners of Open& Hybrid Publishing Pilot competition / Photomediations

After much deliberation, the Photomediations team (Open&Hybrid Publishing Pilot of E-Space project), together with guest curators Katrina Sluis (The Photographers Gallery), Karen Newman (Birmingham Open Media

)

, and Pippa Milne (Centre for Contemporary Photography), are proud to announce the overall winner, curators' choices and commendations for the Photomediations open call competition.

"We were looking for still and/or moving image works (as well as post-digital collages, installations and sculptures), that creatively reuse – in the form of mashups, collages, montages, tributes or pastiches – one or more original image files taken from the Europeana repository of cultural artefacts. We ultimately had 537 people engage with the exhibition site during March and received 300 creative submissions via social media & our submission form/email. We would first of all like to thank everyone one who contributed work. The sheer quality, diversity and creativity evident in each submission made the judging process hugely satisfying for us but equally challenging to agree on our final selections." said the curators.

Every qualifying (licensed & attributed) image submitted to the call will be showcased on the Photomediations website and a selection will be part of the physical exhibition at E-Space conference in Berlin.

The overall winner of the Open&Hybrid Publishing Pilot Competition is: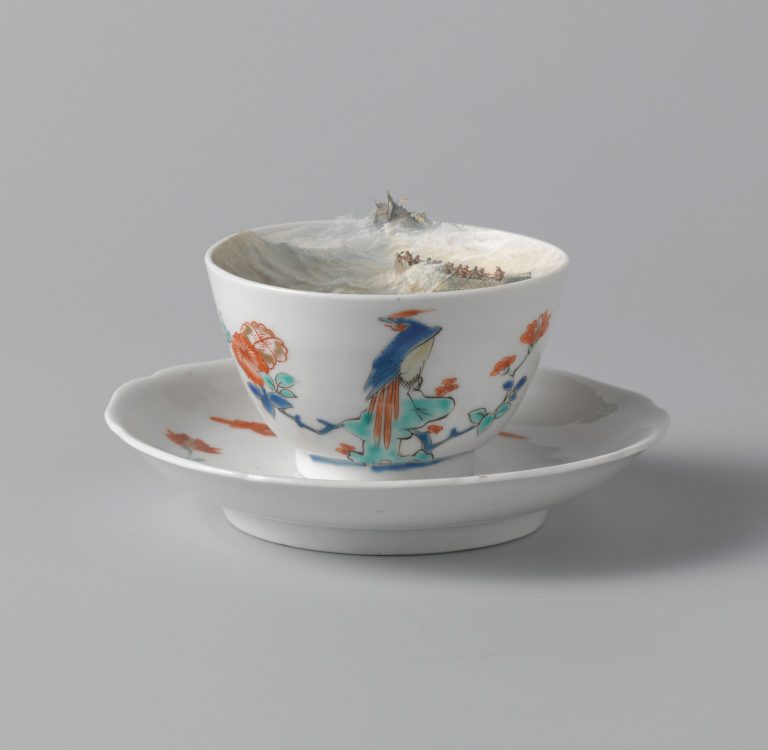 Mark Murphy, Storm in a Teacup (CC BY-NC-SA)

"By deftly selecting and splicing together two remarkably different images, Mark asks us to imaginatively ponder the physical impossibility of a 'storm in a teacup'". (Katrina Sluis)

"Just really beautiful". (Karen Newman)

Discover the other winning projects (Curators' choice and Commendations awards) on the Photomediations website.

"We hope will continue to inspire and provide the foundations for others to produce new remix creations and showcase the benefits of open licensing within the creative sector."