from our UK correspondent Lucia Ruggiero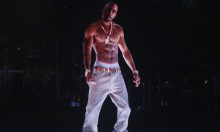 Last night, 17th April 2012, at a concert in Coachella, California, the rapper Tupac appeared on stage in a special performance alongside Dr. Dre and Snoop Dogg. The problem is that Tupac died in 1996.
What appeared to audiences as a live performance from the renowned rapper was in fact a very realistic computer-generated projection of him performing and appearing to interact with the audience, alongside Dr. Dre and Snoop Dogg, who were actually there in the flesh. This use of computer-generated imagery, which has been described by experts as similar to a 19th century magician's illusion, is now set to change the limits of entertainment and broaden its boundaries. It has already been used at a Black Eyed Peas concert, where two of the group members were unable to be present and were instead projected, using a hologram-like image, on to the stage. Now, experts claim this technology is set to change the boundaries of communication, as they have already managed to successfully project live images of people, not just pre-recorded ones. For example in a news broadcasting studio, correspondents who are thousands of miles away could appear to be reporting live from within their home studio.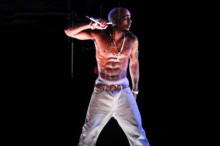 Before the technology has a chance to alter our expectations of entertainment and communication however, it may need to find a way to become more economically accessible; MTV news have reported that the company that created the Tupac 'hologram' charge between $100,000 and $400,000. There are also possible ethical issues involved, especially as projecting such realistic images of people who have been dead for years may be deemed not just insensitive but even offensive.
References and more information:
BBC Breakfast News, 8.20am, Wednesday 18th April 2012.
http://www.guardian.co.uk/music/2012/apr/18/tupac-hologram-tour?newsfeed=true
http://www.mtv.com/news/articles/1683289/tupac-hologram-coachella-future-of-touring.jhtml