The British Council and the British High Commission in Nicosia, in collaboration with Snook, a Glasgow-based digital innovation agency, and in partnership with Google, are hosting a Culture Shift Hackathon programme on 18th – 20th March, at the Capital Impact in Nicosia.
Culture Shift is an innovative hackathon which brings together creative people and digital practitioners to come up with new ideas and solutions, through the use of technology, to some of the challenges faced within the cultural and creative sector.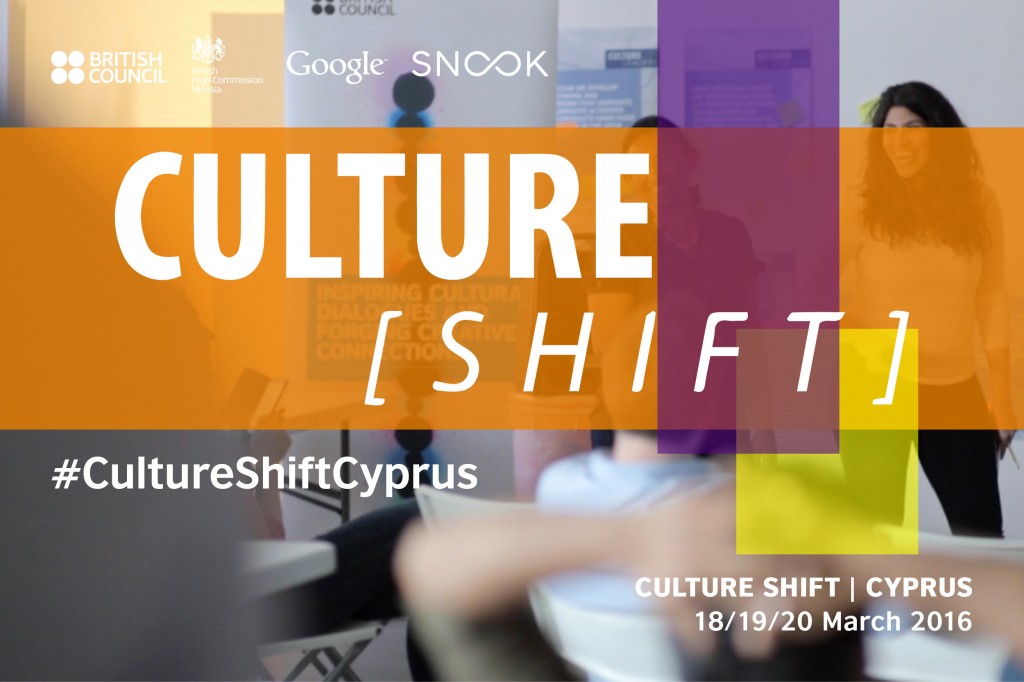 The British Council's model has a proven track record since 2011, of stimulating innovation in the cultural sector worldwide and has already been held in Nigeria, Dubai, Greece, Egypt and other places across the globe.
The British Council, British High Commission in collaboration with Snook are now bringing it to Cyprus! The aim is to develop a range of ideas and digital prototypes that solve or build on challenges regarding the cultural sector in Cyprus.
We are looking for the challenge themes to be submitted by both the public and people within the arts sector, and to have an emphasis on how technology and social media platforms can be incorporated to support arts, culture and heritage in Cyprus. If you want to submit a challenge, please visit: http://bit.ly/1PFKgcN
The three-day event is free! It is aimed at collaborative people from the whole island who have skills in digital development, designers, entrepreneurs/innovators and individuals from the arts and cultural sector to work together over the weekend. The teams will be supported by experts and mentors from both communities in Cyprus.
If you are interested in participating in the workshop and tackling a challenge, please sign-up until 13 March, at: www.cultureshiftcyprus.eventbrite.co.uk
Venue: Capital Impact, 121 Prodromou Ave, 2064 Strovolos, Nicosia.
When:  18-20 March, 2016.
For more information please contact Georgia Kouta on cultureshiftcyprus @gmail.com or 00357 99901188 / Katerina Nicolaou on 00357 22 861383 or Katerina.Nicolaou @fco.gov.uk. Visit our webpage: http://www.britishcouncil.com.cy/events
To follow the event on social media, please see #CultureShiftCyprus