We are glad to announce the next
ISO/IEC JTC 1/SC 29/WG 11 MPEG meeting
ISO/IEC JTC 1/SC 29/WG 1 JPEG meeting
ITU/T SG 16/Q6 VCEG meeting
all of which will take place in the Marriott Hotel Warsaw from the 22nd to the 26th of June 2015, hosted by the Poznań University of Technology.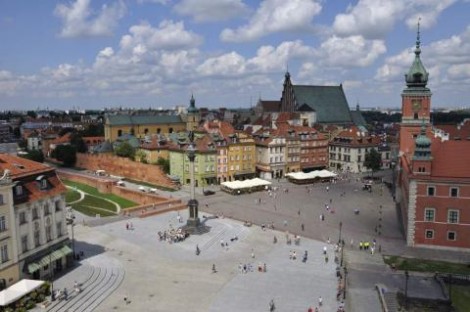 JPEG (Joint Photographic Experts Group) is a joint working group of the International Standardization Organization (ISO) and the International Electrotechnical Commission (IEC), with a long tradition in the creation of still image coding standards. The JPEG Committee, more specifically, is Working Group 1 (WG1) (Coding of Still Pictures) of JTC 1's subcommittee 29 (SC29), Coding of Audio, Picture, Multimedia and Hypermedia Information.
The word "joint" in JPEG does not refer to the joint efforts of ISO and IEC, but to the fact that the JPEG activities are the result of an additional collaboration with the International Telecommunication Union (ITU).
The experts' group today working on visual coding within the ITU is informally known as VCEG (Video Coding Experts Group or Visual Coding Experts Group).
Another working group within SC29 is WG11 (Coding of Moving Pictures and Audio) well-known as the Moving Picture Experts Group (MPEG). The Moving Picture Experts Group is a group of ISO/IEC in charge of the development of international standards for compression, decompression, processing and coded representation of moving pictures, audio and their combination.
JPEG meets at least three times a year to discuss and create the standards for still image compression and processing. MPEG usually holds four meetings a year. These comprise plenary meetings and subgroup meetings on Requirements, Systems, Video, Video coding, 3D Video Audio, 3D Graphics and Communication.
For further info see:
http://www.jpeg.org/index.html
http://www.itu.int/en/Pages/default.aspx