To celebrate the London 2012 Olympics, as part of the Watermans International Festival of Digital Art in London there will be a series of six installations from artists located all over the world.
The festival will focus on how digital art can become interactive, giving spectators the opportunity to 'be part of the art'. Each piece of interactive, digital art will also attempt to 'represent' a different continent in the process.
The first exhibition in the series called 'Representing Europe: Cymatics', by Japanese artist Suguru Goto, was closed on 19th February. The second exhibition called 'Representing Africa: One-Room Shack Collective with UNITY', was closed on Sunday 8 April. The third exhibition, closed on Sunday 20th May, was 'Representing Australasia: Michele Barker and Anna Munster with HokusPokus.' Sunday 8 July was closed the fourth exhibition, called 'Representing Asia: Phoebe Hui with Granular Graph'. The fifth exhibition, 'Representing Britain: Gail Pearce with Going With The Flow' was closed on Sunday 19 August.
Coming next (from 25 August 2012)
Representing The Americas: Joseph Farbrook with Strata-caster
Watermans Gallery – Saturday 25 August – Sunday 14 October 2012 (Daily 12 non – 9pm)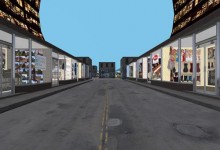 Joseph Farbrook will be showing Strata-caster, an exploration of the topography of power, prestige, and position. The art installation exists in the virtual world of Second Life, a place populated by over 50,000 people at any given moment. Although virtual and infinite, it continues to mirror the physical world, complete with representations of prestige and exclusivity. Entry into this installation is by wheelchair, an unfamiliar interface to the limitless expanse of virtual space, but one that continuously calls attention to limitation and position.
Joseph Farbrook grew up in New York City and Santa Fe, raised by his father, a concrete poet, and his mother a painter. Farbrook creates virtual reality art installations, video sculptures, and videographs. He has also created media-reflexive live performances mixed with interactive screen projections. Farbrook's latest work explores the intersections between video, video games, and sculpture.
Farbrook exhibits both nationally and internationally including SIGGRAPH2010, the AC Institute in NYC, the Museum of Contemporary Art in Denver, La Fabrica Arte Contemporaneo in Guatemala, Museo De Arte Contemporaneo in Columbia, as well as venues in the Netherlands, China, Czech Republic, and the USA. Farbrook teaches interactive media art at the Worcester Polytechnic Institute.
More information:
http://farbrook.net
PDF
The exhibitions will be accompanied by a programme of seminars organised in collaboration with Goldsmiths, University of London. These seminars are open to the public.
Further information on each of the six instalments is available on the Watermans' website.
"Representing Europe: Cymatics" by Suguru Goto
Representing Africa: One-Room Shack Collective with UNITY

Representing Asia: Phoebe Hui with Granular Graph

Representing the UK, Gail Pearce with Going with the Flow