The Entertainment Software Association (ESA) is the U.S. association exclusively dedicated to serving the business and public affairs needs of companies that publish computer and video games for video game consoles, personal computers, and the Internet.

The association provides a very valuable and continuous research on the impact of videogames on several aspects in the society. Although being U.S. focused, their studies are extremely interesting, on how games are improving family life, art, education, economy, social issues and much more.
Videogames are not a kids' interest, as the ESA report informs about the average age of gamers: 30 years old! Statistics say that almost 40% of gamers is +36 years old, and 47% of the whole gamers' population is represented by women.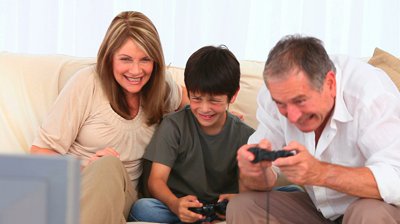 Americans like videogames and they also believe in the educational impact of videogames, both in the family life (60% parents play with their children at least monthly, because it is fun and it is a good opportunity to socialize) and as a teaching device.
In addition to being a great way to keep students engaged, researchers have found that video games have real potential as next-generation learning tools, that help impart knowledge, develop life skills and reinforce positive habits in students of all ages.
The educational benefits of video games are extending into higher education. Ludology, scholastic video game study from a humanistic perspective, now qualifies students to pursue careers in computer and video game design and programming. Educational institutions across the nation provide young people with advanced artistic training in computer and video game design. 343 American colleges, universities and technical schools, including New York University, the Art Institute of Seattle and Marist College, will offer programs and courses in video game design, development and programming.
Moreover, the impact of videogames on art and graphic design is indeed an undeniable fact: the artwork in computer and videogames has become a respected artistic genre of its own. Galleries now feature game artwork in a number of exhibits, and entertainment software serves as a new medium for emerging artists.
Learn more about ESA in the website:  http://www.theesa.com/
ESA's statistics on American gamers (PDF, 1,29 Mb)
ESA's study about games improving education (PDF, 369 Kb)
ESA's study about games improving art (PDF, 376 Kb)
The list of US schools with courses about videogames: http://www.theesa.com/games-improving-what-matters/schools.asp