Prof. Anna Lobovikov-Katz, Faculty of Architecture and Town Planning, Technion, Israel Institute of Technology in Haifa, was one of the members in the scientific committee at EuroMed 2016 and on the occasion of the conference she presented two papers.
One was focused on the use of freehand sketching in the modern interdisciplinary conservation of cultural heritage: "Human" Technology in the Digital Era: Freehand Images and Analysis of Cultural Heritage – The Know-how and Its Applications.
In this paper and presentation, Anna reconsiders the role of freehand sketching in modern conservation of cultural heritage by shifting the main focus from the result to the process. She also presents a method, combined with the rapid learning methodology for achieving this traditional artistic ability, and she examines its focused application to the visual analysis of cultural heritage by non-artist users.
Paper from the conference proceedings: PDF, 700 Kb
Anna's presentation at EuroMed: PDF, 3 Mb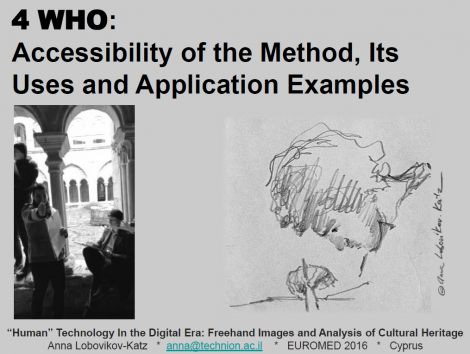 The other paper from Anna in EuroMed conference, Training Schools for Conservation of Cultural Heritage: Between Expertise, Management and Education, examined and suggested tools useful for further multidisciplinary synergies and networks for training schools
Paper from the conference proceedings: PDF, 2.13 Mb
She was also involved in the EuroMed Heritage 4 Programme Project ELAICH (Educational Linkage Approach In Cultural Heritage) which developed scientifically-based, attractive, easy, flexible ELAICH Educational Toolkit, for educators and heritage authorities to introduce the values of cultural (built) heritage and principles and challenges of its preservation to youth.
ELAICH presentation: PDF, 1 Mb
Anna's bio: PDF, 1 Mb