TransISTor focuses on the new technologies employed in the production and post-production of feature films, documentaries and experimental media creations, training European audiovisual professionals through a series of cross-disciplinary workshops. Since 2005 CIANT has promoted TransISTor training initiative (TransISTor2011 is the 7th edition) which is of an increased interest for its target group.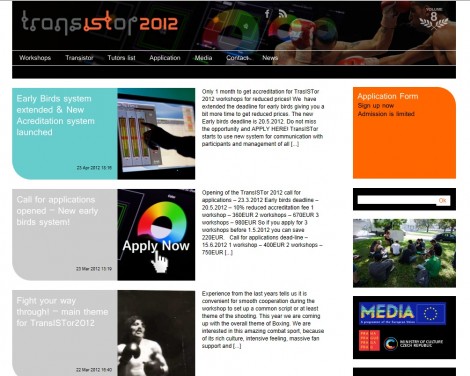 What is TransISTor?
A multidisciplinary training initiative offering European professionals in the audiovisual sector four intensive workshops focused on new technologies in the following key areas:
Integrated approach to 3D cinema and stereoscopy. (script, storyboard, development, distribution and sale strategy).
Shooting Stereoscopic 3D live action scenes. (shooting schedule, location scouting, realisation, CGI supervising).
Stereoscopic 3D Post-production: CGI Visual effects and Stereoscopy 3D (motion capture, editing, combination of live action and CGI sequences).
What does TransISTor offer you?
Outstanding training in preservation techniques and methodologies for digital audiovisual works with respect to latest achievements.
The best practices in digital production within a newly structured workshop in domain of 3D cinema and stereoscopy.
Expanded training module in Stereoscopy post-production techniques exploring cutting-edge experiments with low and high budget equipments, integration & composition with the latest stereoscopic software technologies, enhance with motion capture tracking devices to give professional results.
Transistor audience: Producers, film directors, animators, professionals from the post-production field and from the animation industry, new media content providers and trainers, Computer Graphics visual artists.
TransISTor is run by CIANT: the International Centre for Art and New Technologies in Prague, Czech Republic.
See the workshops' programme: http://transistor.ciant.cz/2012/articles/workshops/
Apply here: http://transistor.ciant.cz/2012/apply/
For further information about CIANT: http://www.ciant.cz/