TOTH 2013 - Terminology & Ontology: Theories and applications

Training session: 4 and 5 June

Conference: 6 and 7 June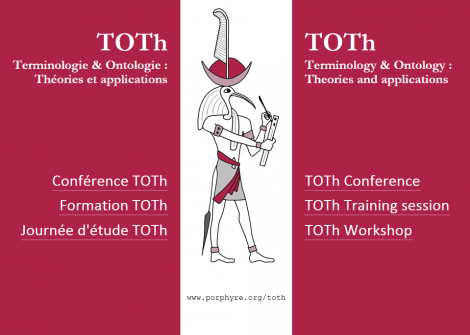 The TOTh conferences aim to bridge the gap between terminology and ontology by highlighting the contributions that one makes to the other and by opening up new perspectives for both theoretical and practical developments.
Terminology is about names for concepts and objects in a given subject area, but it is also concerned with other units such as collocations, lexical combinations or phraseologies in actual use, all of which are part of specialized languages and discourse. The terminologist's job is to design and produce terminological resources which can be used for a variety of language-based activities : translation, corpus language planning, teaching language for special purposes, etc. The quality and the precision of specialised discourse is directly linked to the relation between the way lexical items are ordered and the way knowledge is organised: sufficient encouragement in itself for active collaboration between terminologists, translators, lexicographers, knowledge engineers and IT specialists.
Terminology and ontology share similar objectives in the way they approach and describe reality. Ontologies, which come from knowledge engineering, are now one of the most promising ways to model conceptual systems for terminologies. Of the numerous applications to be found in the digital world, ontologies are particularly useful to make terminologies operational and ensure their applications in various roles : as translation tools, for information and knowledge management, the semantic web, etc.
Terminology and ontology are both basically transdisciplinary in approach, and both reach out to take on board practices and theories from many different subject fields, in particular from linguistics, language for special purposes, epistemology, artificial intelligence, information sciences.

Target audience & Disciplines
The TOTh conferences aim to bring together all those involved in LSP, terminology and knowledge engineering and, more generally, all persons interested in issues related to language and knowledge.
They are designed to be platforms of exchange and sharing where problems are outlined and solutions and feedback provided, for both theoretical and applied perspectives as well as for the new trends and perspectives of associated disciplines: terminology, languages for special purposes, linguistics, artificial intelligence, knowledge engineering, information systems, collaborative engineering, information sciences, documentation, etc.

Young Researcher Prize
Since 2011, a Young Researcher Prize is awarded by the Program committee and bestowed on the winner during the Conference.

Official languages
French and English
Further information:
Official website: http://www.porphyre.org/toth/
Conference programme (PDF, 5,36 Mb)
Training flyer, in French language (PDF, 899 Kb)
Call for papers (PDF, 5,35 Mb)