In Japan a revolutionary exhibition was recently presented: the most appreciated masterpieces that cannot be moved from Florence were showing in Tokyo, thanks to advanced digital tools.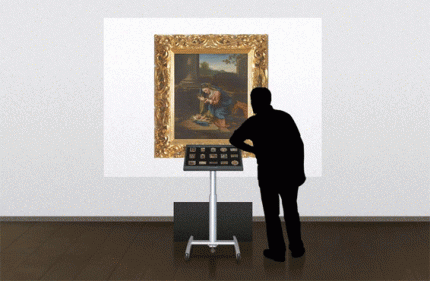 Natural-size, highest quality printed copies, and a virtual theater showing images of the Uffizi aisle, wrapped the visitors with the original atmosphere of the Florence museum; moreover, thanks to a digital platform in Japanese language,visitors were able to appreciate and interact with over 100 masterpieces.
The 10 printed masterpieces are: La Primavera, la Nascita di Venere and La Madonna Magnificat by Botticelli, Dittico dei Duchi di Urbino by Piero della Francesca, Annunciazione by Leonardo, Tondo Doni by Michelangelo, Madonna del Cardellino by Raffaello, Venere d'Urbino by Tiziano, Ritratto di Eleonora di Toledo by Bronzino and the most famous Bacco by Caravaggio.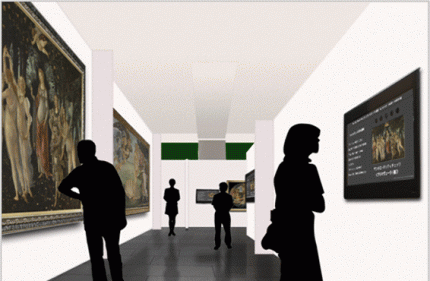 The digital theater was composed of 5 huge monitors which were showing the aisle of Uffizi from different points of view. It provided highest resolution images (over 1500 dpi), with perfect colors and no geometrical distortions, and the illusion of being "there", in Florence, was  amazing.
The digital platform allowed to get in touch with further 100 paintings, through an interactive display that showed each one in its real size.
It was a virtual exhibition that well represents the coming future about preserving and enjoying artistic heritage, and it was also an innovative form of sharing the art piece with each one visitor, thanks to the interactivity of the digital device.
The exhibition promoters were: Italian Embassy in Tokyo, Italian Culture Institute in Tokyo, Italian Ministry for Cultural Heritage and Activities, Polo Museale Fiorentino, University of Florence, and Foundation Italia-Giappone.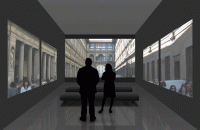 For further informations:
Exhibition website (informations in italian and japanese languages)