The TERENA Networking Conference (TNC) is the largest and most prestigious European research networking conference – over 500 participants including decision makers, networking specialists and managers from all major European networking and research organisations, universities, worldwide sister institutions and industry representatives attend.
Through keynote speeches by renowned specialists and many parallel sessions, the Conference presents an overview of the latest developments in research networking, both in the technical field and in the areas of application and management.
TOPICS:
NREN 3.0: PPP, best organisational practices, NET+, expanding the user base, new service offerings, clouds, brokering, procurements
National Research and Education Networks are facing a period of change and evolving their business models and service offerings. With increasing emphasis on international collaborations, user communities need innovative approaches to exploit the rapid evolution of technologies that are increasingly reliant on excellent networking.
OPEN SCIENCE, BIG DATA: big data sets, research tools, open science, library management, supporting collaboration, open education, digital preservation
The production of on-line data in all its forms, from new data collection to digitisation of historical and cultural heritages is increasing dramatically. Making this data available, reliable and reusable to everyone has become a long-term goal and is the next step in the development of society.
CREATING SOLUTIONS: end-to-end, top 2 bottom, green IT, social impact, mobile working, accessibility, e-education, e-government, e-health
Reliable, effective, capable and manageable networks are fundamental to the new applications and services that are emerging. Building, maintaining and evolving new infrastructures is key to being able to provide cost effective and innovative solutions.
CREATING INFRASTRUCTURES: smart networks, sensor networks, dark channels, dark fibres, optical applications, SDN, AAI, IPv6, intrusion detection & prevention; security, privacy, advanced media, real-time collaboration, Grids, digital rights, storage, IPv6, federations
The challenges of social networking are important issues cutting across all aspects of networks and services. Security and privacy are extremely important concerns, as well as the need to balance policies between the requirements of Internet governance and Internet democracy.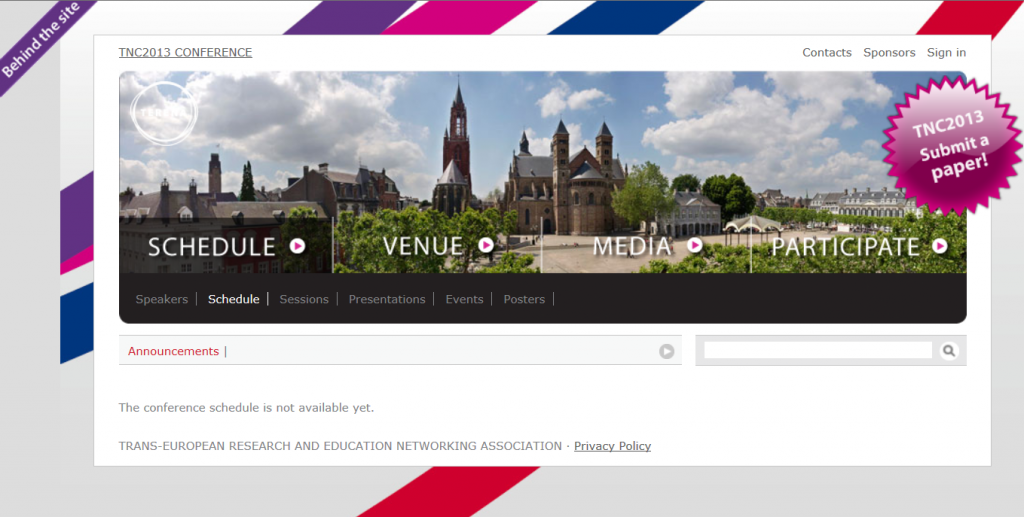 The TNC2013 will be hosted by SURFnet, the Dutch National Research and Education Network and held in the picturesque city of Maastricht from 3-6 June 2013. The Treaty signed in Maastricht on February the 7th 1992 has made the city famous as the birthplace of the European Union and the single European currency, the euro. The Treaty has made Maastricht a symbol for Europe. SURFnet connects institutions in the Netherlands and the rest of the world via NetherLight (the international lightpath node in Amsterdam), AMS-IX (the world's largest Internet node), and the GÉANT network (the pan-European communications infrastructure). SURFnet will be celebrating it's 25th anniversary and it sets the perfect scene for TNC2013.
Official Conference website: https://tnc2013.terena.org/
Official TERENA website: http://www.terena.org/