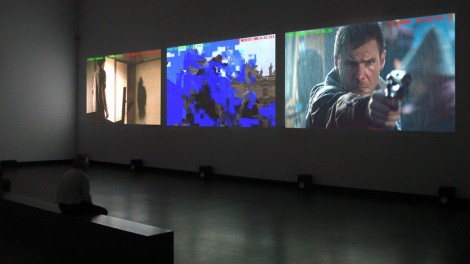 A new digital art exhibition by Nicolas Maigret and Brendan Howell entitled 'The Pirate Cinema' uses live P2P exchanges globally to reflect what is being downloaded through the internet through torrent file sharing. The result is displayed on screens, showing short snippets from the films being exchanged between internet users. The source chosen for the art project was 'TorrentFreak'. At the top corners of each snippet of film being downloaded, viewers can see the source and recipient's IP address and their location globally.
Although this art project may seem to come into conflict with piracy laws due to the fact that it involves the projection of illegally downloaded material subject to copyright, the films displayed on the screen are only short snippets, change frequently, and are not stored permanently on the system's database.
This art exhibition is shows a fresh take on exploring internet activity and applying it to digital art, whether the activity be legal or illegal.
'The Pirate Cinema' is currently on show at the Sound + Sight festival in Canada.
The Pirate Cinema website:
http://thepiratecinema.com
The Sight + Sound festival website:
www.sightandsoundfestival.ca