After beginning his career as an oil painter, the digital artist known as Shichigoro has found his way into further explorations of his themes through Photoshop.  Mixing biology with organic machines, his work is influenced by anime and manga.  Here are a few comments from the artist….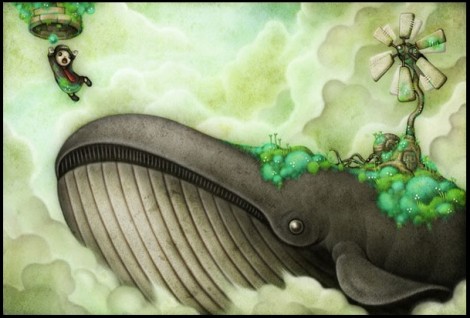 "One process works for me. I work with a pen tablet and Photoshop to complete everything after beginning with a rough underdrawing.  Most of the pictures are painted from a motif and biology that combines organic machines and robots, Kuricha, and minerals. Some might have the impression that the images are a little dark, and they do not have to have negative emotions such as 'unhappiness, sadness, fear, anger,' etc… I personally think they draw on the themes of 'silence, peace, kindness, and joy….' within the feelings of a small alien figure. I complete and finish with the addition of textures at the end."
He added that digital mediums in time will continue to become even more important in the contemporary art world.
"I studied oil painting at the University of Japan.  It was there that I began to love our great masters of Japanese animated films, such as Hayao Miyazaki, Mamoru Oshii, Satoshi Kon, etc. In addition to this, I also enjoy the digital artwork of Almacan (Kazuhiko Nakamura).  After college, I worked for a while at a job that had nothing to do with my work now. I then began to draw with digital mediums because we did not have much money to buy paints, paper and canvas.  Digital media has permitted me to work economically."
Shichigoro-Shingo, Freelance Illustrator.  Graduated from Tama Art  University (Department of  Painting, Oil Painting Course)  in Tokyo.
Official website: http://www.shichigoro.com/