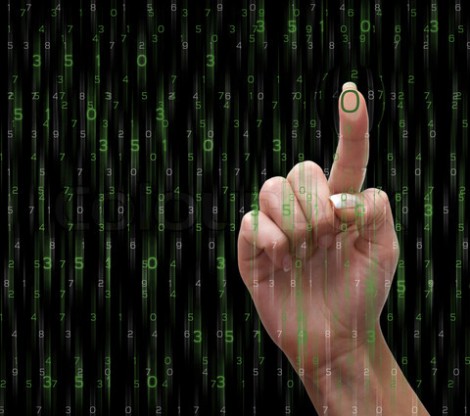 Lab for Emerging Arts and Performance (LEAP) is a non-profit interdisciplinary project for emerging, digital media arts and performance that aims to initiate the dialogue between art, science and technology.
LEAP's central concept is based on experimental research in digital technologies and media, which shape and change our present and future society and stimulate new discourses, discussions and questions.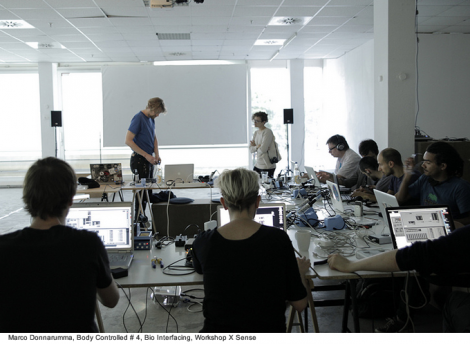 The human being (or body) is thus in performative interaction with these technologies and their impact on society and culture. It stands in a transformative process with its environment and thus is prompted to challenge the limits of its exterior and interior. LEAP's conceptual and substantive program deals with the discussion of new discourses, critical issues and provides a bridge between theory and practice.
It was founded by Daniel Franke, Kai Kreuzmüller and John McKiernan in 2011 and it regularly hosts national and international artists, as well as public workshops, events, performances and exhibitions.
With its exhibitions and projects, LEAP is interested in this direct involvement of the urban environment outside the gallery, incorporating this relation-ship into its experimental context and in exploring the progressive fusion of real and virtual space.
The important of this art center is not only given by the quality of the presented artists and events or workshop offered, but also by the primary location, Berlin, one of the most creative and active cultural capitals in the heart of Europe.
LEAP (Lab for Electronic Arts and Performance)
Karl-Liebknecht-Str. 13
10178 Berlin
http://leapknecht.de/ | http://www.facebook.com/leap.berlin
An important exhibition that took place in the LEAP was Obsessive sensing, that show many installation pieces created using technical methods rather than traditional artistic-academic skills. This group exhibition features works which as their basis look at the programming of the world as an expression of artistic research.
The participating artists aim to ''sense'' with the help of complex systems and thus to reimagine how we perceive the world. How do we go about sensing that which we cannot perceive? This is reflected in the idea of technical images, as described by Vilém Flusser – the preparation of the information which we cannot perceive for our senses. ''This can be achieved neither with hands nor with eyes nor with fingers, for these elements are neither graspable, nor are they visible. For this reason, apparatuses must be developed that grasp the ungraspable, visualize the invisible, and conceptualize the inconceivable.'' (Vilém Flusser, Into the Universe of Technical Images).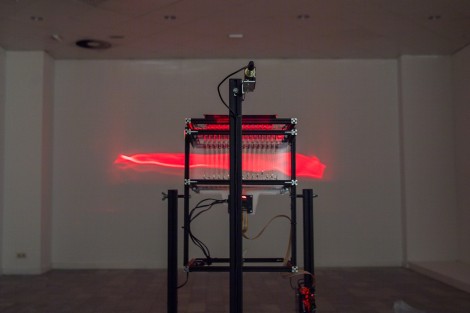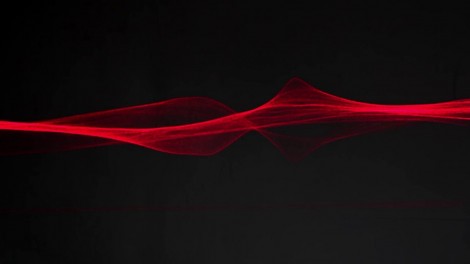 Ralf Baecker – "Mirage" (2014)
A red wisp seems to tread air on the wall, fluctuating in the same rhythm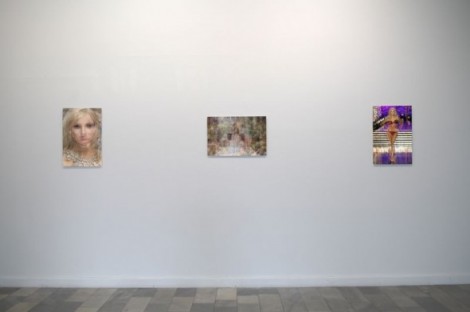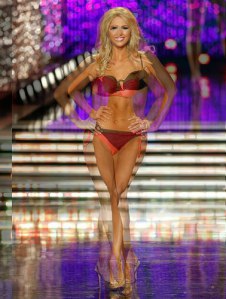 Addie Wagenknecht – "Law of Averages" (2014)
The Law of Averages brings up the question of whether beauty is programmable. In the series of three prints, a group of image search results compiled using eye tracking and color-averaging computations, are layered on top of each other. The end results look like multiple exposures of supermodel and fairy tale ghosts.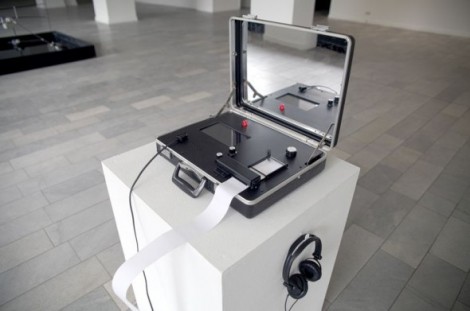 Jamie Allen – "The Lie Machine" (2014)
It presents lie detection technology packed into a Samsonite suitcase. The technology is called Voice Stress Analysis (VSA) and relies on voice tremors as its data for analyzing deception, rather than physiological stress symptoms as with a polygraph test.
View the exhibition here: http://www.berlinartlink.com/2014/04/22/exhibition-obsessive-sensing-at-leap/
Participating Artists:
Jamie Allen, James Auger and Jimmy Loizeau, Ralf Baecker, Rosemary Lee, Sascha Pohflepp and Chris Woebken, Addie Wagenknecht.