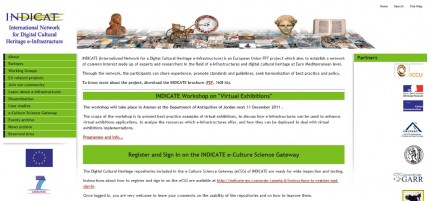 One of the major challenges of INDICATE is to establish a dialog among e-infrastructure providers and cultural heritage institutions. These sectors are not used to work together and they do not know each other state of the art. In fact, just as an example, there are many issues related to standards and guidelines for metadata in the cultural sector that are not known in the world of e-Infrastructures, while sharing knowledge of the applicable standards is a pre-requisite for any further development. INDICATE is a perfect instrument to progress in this direction.
The INDICATE network will be naturally interrelated with the DC-NET network of common interest. The two projects share indeed many partners and their common interests.
Within this network, INDICATE will:
Establish working groups dedicated to specific aspects of e-Infrastructures-enabled cultural heritage which are relevant across national and organisational boundaries, such as common standards and guidelines;
Hold conferences, workshops and seminars on the convergence of e-Infrastructures and Arts, Humanities and Social Sciences (AHSS), with a special focus on digital cultural heritage;
Establish online tools and resources for the working groups, which act both to facilitate the working groups and to enable wider access to the expertise within the groups.
This community is a long-term collaborative group.
Experience in similar projects indicates that the network will continue to add value for its members and to function beyond the lifetime of the project.