The Digicult Agency was born in the summer 2008 and today it ovelooks the digital art and culture market with a wide spectrum of artists, performers and designers creating audiovisual immersive systems (performances and installations) focused on the relationship among sound, visual and space. The Digicult Agency wants to promote original work by selected contemporary artists, encouraging their activities via this online platforms, art festivals participations, cultural events invitations, art fairs and selected exhibitions.
Digicult Agency supports and encourages new artistic productions and collaborations between artists and experts. Supporting research, innovation and the ongoing distribution of our productions, Digicult Agency aims to make a significant contribution to the development of new ways of making, presenting and experiencing contemporary and digital art.
Working as an agency, Digicult promotes and organizes the work of these artists, presenting their art pieces within some important festivals, galleries, exhibition, events and cultural centers in Europe and worldwide. The cross-artform projects that Digicult promotes, are characterised by powerful new ideas, high production values and technical innovation on the border among Live Media concerts, Live Cinema experiments, Audiovisual Environmental Installations and Screenings. Often these qualities result from the unique nature of Digicult's collaboration with the artists, developing their projects over extended periods of time.
The professional people that represent the Digicult Network of journalists, curators, artists, theorists, practitioners and critics, are also involved in the theoretical and practical seminars and classes, lectures and round tables in cultural events, festivals but also universities, academies and art/design schools worldwide. Thanks to all these collaborations, Digicult Agency has been also having the possibility to develop both commissioned curatorships and also its own specific cultural and artistic projects, that become like formats that were replied in many festivals and exhibitions and become an example of Digicult Agency eclectic curatorial activity.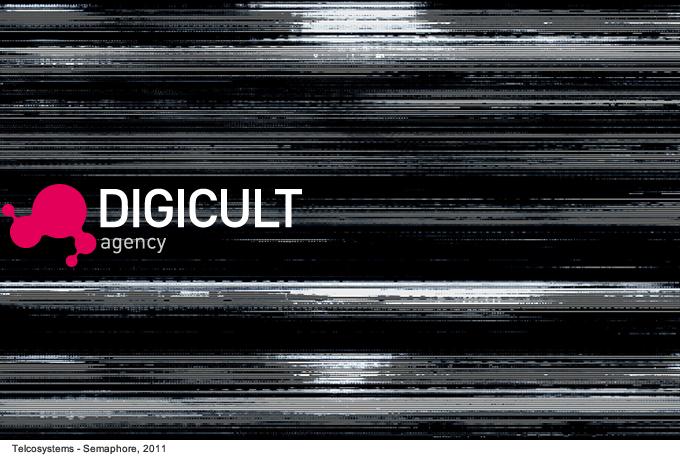 Digicult Agency acts as a bridge between artists, practitioners and organisations within the business and cultural sector. We have respectable experience in commissioning works and projects for both the art sector and in the creative business, count with the expertise knowledge of academic researchers interested in the field of Audiovisual, Digital Art and Design and more than everything, we love digital culture. We work on different levels with our partners, according to their individual needs and visions on shared practices, aesthetic experimentations, technological researches and applied sciences.
For more informations please contact: agency@digicult.it
Digicult magazine: www.digicult.it
Download the Digicult Agency presentation: PDF, 1 Mb