The DEN Foundation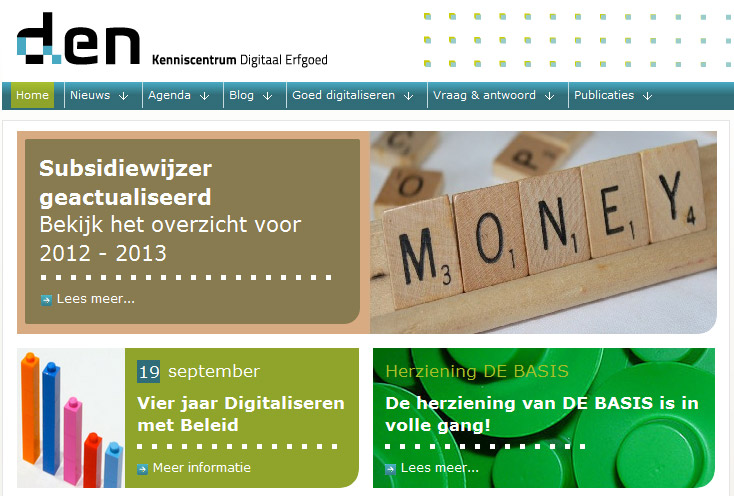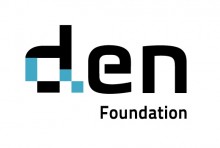 The DEN Foundation is the Dutch knowledge center for digital heritage. DEN supports archives, libraries, museums and other heritage institutions to improve their digital strategies and services. The sharing of knowledge of and experiences with ICT is a core mission of DEN.
Furthermore, DEN encourages the institutions to invest in open technology, to implement open ICT-standards and to make use of other tools that contribute to sustainable information services.
Activities
DEN organizes expert meetings, workshops and conferences (including the bi-annual international conference DISH) to support cross-sectoral co-operation. DEN is an active partner in national and international heritage and research communities, including Europeana. At the moment DEN is core partner of the European projects ENUMERATE, which monitors the progress of digitization of cultural heritage, and Europeana Inside, developing a Europeana connection kit. DEN is also partner in the European project meSch and leads the Dissemination Work Package for this project.
Furthermore DEN is one of the partners developing a national aggregator for Europeana as well as  member of the Europeana network and helps to promote chosen standards in The Netherlands.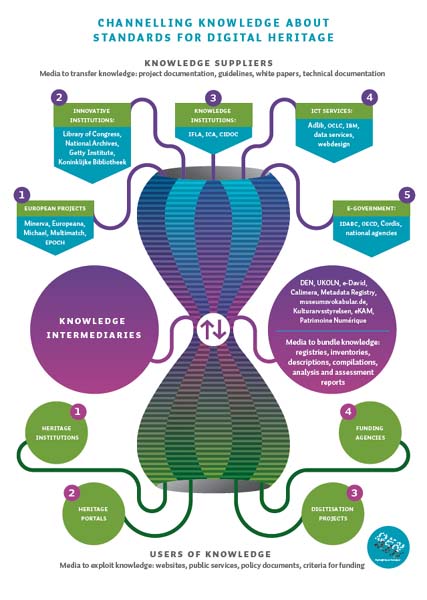 Freely accessible knowledge base
DEN maintains an online knowledge base to promote relevant ICT standards and to share information on basic and best practices in the cultural heritage field. It has a number of databases with information about digitization projects, cultural heritage institutions, technical suppliers, publications and ICT-standards and guidelines.
The key concept of the knowledge base is a quality life cycle model where policy and practice are intertwined. Current issues in the digitization process are elaborated in relation to this model, providing users with guidelines and use cases on how to provide sustainable access to digitized collections.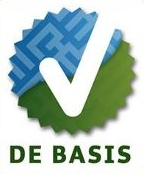 Another important tool in the knowledge base is a set of guidelines known as "The Basics". These guidelines include a set of ict-standards and by applying these guidelines, institutions ensure a minimal level of sustainable access to their digital collections.
DEN has developed a thoroughly tested scenario on how to address the users need and is constantly working on improving the usability of its knowledge base. Future plans are a more dedicated focus  on European and international developments, especially those in Europeana. Currently the knowledge base mainly provides information in Dutch and the DEN Foundation is looking at ways to make more information accessible for non-Dutch users. There are also plans to increase the collaboration with other (international) knowledge institutions and platforms.
Further Information
DEN flyer (PDF, 348 Kb)
DEN website: http://www.den.nl
Knowledge base: http://www.den.nl/digitaliseren
The Basics: http://www.den.nl/debasis