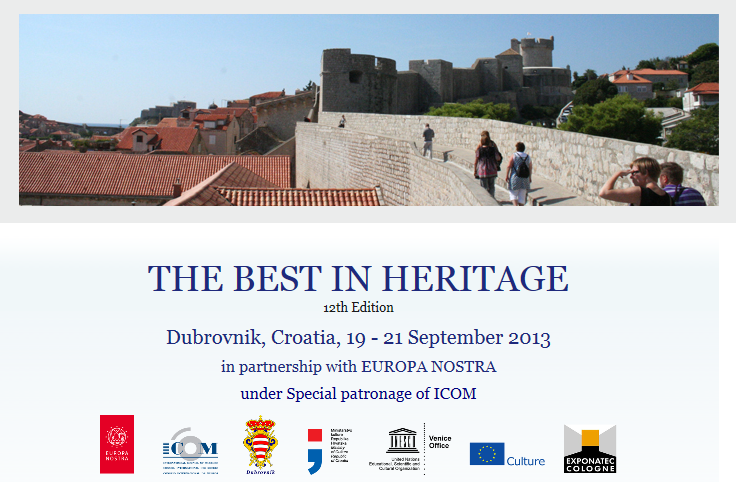 The Best in Heritage is an international, annual survey of award-winning museum, heritage and conservation projects. More than Twenty projects from the world, proclaimed the best in the previous year on national or international level, are invited to the conference to present their success stories. In brief, we display and celebrate excellence from the field of museums and heritage. The conference is taking place at the end of each September in Dubrovnik, UNESCO World heritage site.
Who is meeting whom?
Meeting of museum and heritage professionals with various experts we cannot do without (architects, designers, consultants, information specialists, suppliers, tourism experts, media people etc.);
Meeting of institutions and professionals from a broad range of practice and interest in the field of heritage to provide practical inspiration and create a rich mutual learning environment;
Meeting of experienced veterans and ambitious, creative newcomers from the converging variety of professions in the field of heritage, all in the context of the information society;
Meeting of minds and cultures: Dubrovnik has been, throughout its rich history, a geographical point where Mediterranean meets Central Europe, where West meets East, where North meets South.
Meeting of museums, heritage and conservation professionals as an opportunity to check rising convergence through four shared objectives and circumstances: user orientation, societal mission, Information and communication technology and common theoretical basis.
Read the full programme here.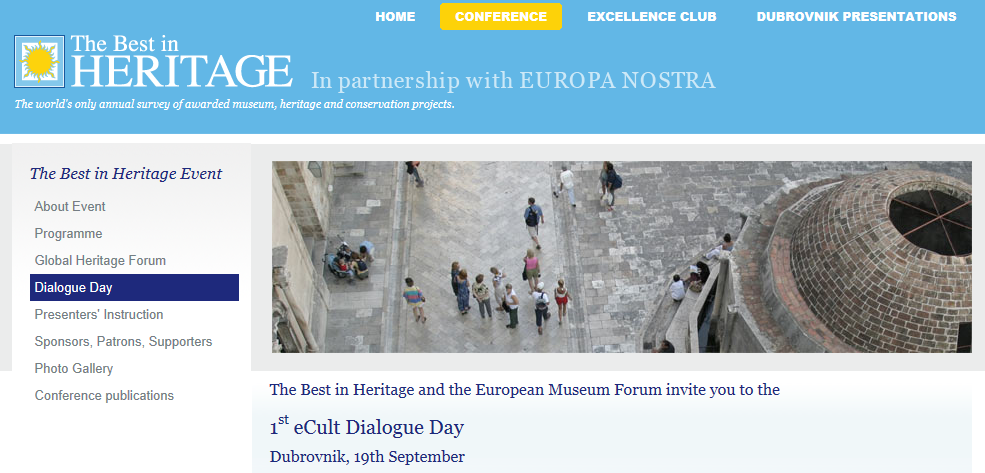 Moreover, on day 1, a brand new event organized in the framework of eCultValue project will take place: the Dialogue Day.
All registered for the Best in Heritage are invited to take an active part in this event where experts from the most distinguished research centres communicate the outstanding possibilities that new technologies are offering to the "born digital generation".
Read the Dialogue Day programme here.