TEDxTransmedia, under the auspices of the European Broadcasting Union, returns to Rome's MAXXI Museum for its third global conference on September 28, 2012.
TED is a nonprofit organization devoted to Ideas Worth Spreading. Started as a four-day conference in California 25 years ago, TED has grown to support those world-changing ideas with multiple initiatives. The annual TED Conference invites the world's leading thinkers and doers to speak for 18 minutes. Their talks are then made available, free, at TED.com.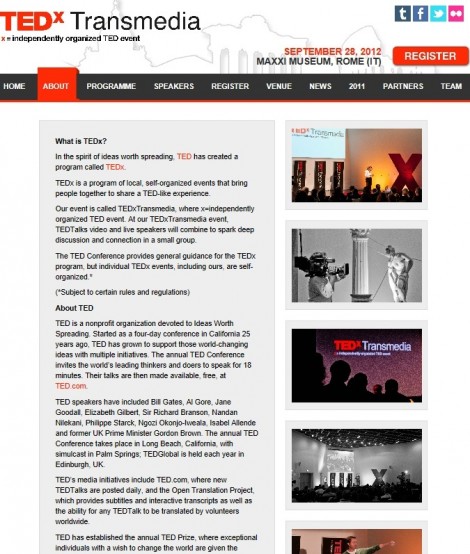 In the spirit of ideas worth spreading, TED has created a program called TEDx. It is a program of local, self-organized events that bring people together to share a TED-like experience.
Our event is called TEDxTransmedia, where x=independently organized TED event. At our TEDxTransmedia event, TEDTalks video and live speakers will combine to spark deep discussion and connection in a small group. The TED Conference provides general guidance for the TEDx program, but individual TEDx events, including ours, are self-organized.
TEDxTransmedia 2012 – WEkids: Dreamers, Geeks, Mindshifters – will present TED Talks that strive to inspire new ways of media thinking. In three sessions, Dreamers, Geeks, Mindshifters, we hope to awaken the unconscious optimism, energy, passion and free-thinking of the inner child in us all.
TEDxTransmedia 2012 invites pioneers, trailblazers, innovators and speakers of all ages, to share the stage with ideas, and stories of success and failure, that will help us learn new ways to tell stories across multiple media platforms.
The event will involve educators, authors, activists, journalists, artists, philosophers and creative thinkers, as we combine the forces of Dreamers, Geeks and Mindshifters, to lead change in people, cultures, environments and lives.
At TEDxTransmedia 2012 we invite thinkers, doers, dreamers, geeks and mindshifters to join us in a discussion about shaping future media through the opportunities provided by transmedia techniques.
At TEDxTransmedia 2012, we will be asking:
How can we create a global movement that will inspire generations to make positive changes in their communities that together could help change the world?
How can we create a system of information, strategically connected, that will mobilise everyone from children to grandparents?
How can media be a vital part of change, more than just a carrier of information?
How can we develop the unconscious, wishful thinking of a Dreamer?
How can we acquire the eccentricity and technological skills of a Geek?
How can we become a Mindshifter who guides others toward transformation?
Join us and register for TEDxTransmedia 2012!
Official website and registration: http://www.tedxtransmedia.com
Programme: http://www.tedxtransmedia.com/#programme
Speakers: http://www.tedxtransmedia.com/#speakers