TECHNOLOGY for ALL 2015, being held in Rome from 12 to 14 May, is a forum about the innovations brough about by new technologies in land management, cultural heritage and smart cities. It includes three conferences, a workshop and a showroom.
The workshop, taking place in the archaeological area of Trajan's Market, will allow for on-field observation of real application tests of the latest technologies. The data produced will be processed and presented during the dedicated sessions with the opportunity to see results obtained and possible usages.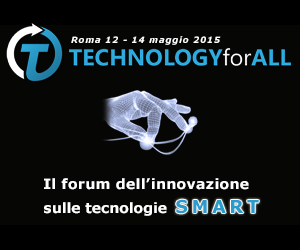 Following a three-conference route – "Actions for smart land management", "Intelligent tools for cultural heritage", "From the historic city to smart city" – organised into thematic in-depth sessions, technical workshops and demonstrations.
TECHNOLOGY for ALL is organised by mediaGEO – Science & Technology Communication, publisher of magazines Archeomatica and GEOmedia.
Visit www.technologyforall.it