It's summer festival time in Australia.  Sydney Festival (5-27 January) offers a rich programme of around 80 events involving upwards of 1.000 artists from Australia and abroad covering dance, theatre, music, visual arts and cross media.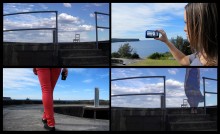 For the duration of the Festival, Darling Harbour is home to Dutch artist, Florentijn Hofman's, giant bobbing artwork Rubber Duck.
The Northern Kunqu Opera Theatre from China performs one of the oldest and most refined styles of Chinese opera and present The Jade Hairpin and The Peony Pavilion in an Australian exclusive.
From Ireland, dance company Fabulous Beast perform their internationally acclaimed work Rian.
At the Powerhouse Museum, Dutch Profiles features a selection of short documentaries about architects, graphic, product and fashion designers in the Netherlands. Containing interviews with both well-known and upcoming Dutch designers, Dutch Profiles focuses on their conceptual approach, their work process, and the context of their projects.
The 4A Centre for Contemporary Asian Art and Carriageworks present renowned Chinese artist Song Dong's powerful installation Waste Not.
For the full programme, including pratical information of the city, please visit the Sydney Festival Official Site