UNESCO Chair in ICT to develop and promote sustainable in World Heritage Sites with collaboration International Federation for IT and Travel & Tourism (IFITT) invites you to take part in Summer School 2016 devoted to Information and Communication Technologies for Promotion and Development of Sustainable Tourism at Cultural and Religious Heritage Sites, the case of the UNESCO World Heritage Sites.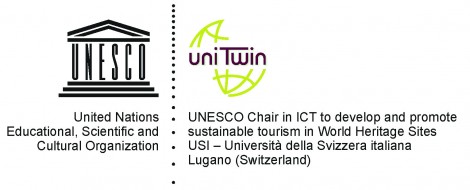 The Summer School program will includes lectures by leading international scholars, applied skills seminars lead by expert researchers, case studies, and group-work project on subjects such as:
eTourism Communication
ICT for Storytelling
Augmented Reality
Intercultural communication
& many other topics
When: August 29 – September 9, 2016
Where: Casa Dei Padri, Armeno(NO), Italy – nearby Sacri Monti of Piedmont and Lombardy, a UNESCO World Heritage Site.
How to apply: Please send your CV and a one-page motivation letter to unescochair@usi.ch no later than April 30, 2016.
Fee: 1000 EUR (includes tuition fee; board and lodging for two weeks as well as social activities). Discounts apply, check the website.
Download the brochure: PDF, 668 Kb
Website: http://www.unescochair.usi.ch/activities-2/summer-school-2016