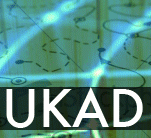 Forum: Standards for Discovery: from the small archive to the European stage
Where: The National Archives, Kew
When: Thursday 27th March 2014
The day will include workshops and presentations, posters and panels showing the importance of standards for opening up archives.  Standards underpin data sharing and user access across online networks, and the UKAD Forum will explore the benefit of standards for even the smallest archive.
Official website: http://www.ukad.org/
The Forum is also an opportunity for you to share your own experiences.  Do you have a story to tell? Could you offer useful knowledge from working with standards in your own environment? Then let us know if you would like to contribute a poster.  We have extended the session from last year and scheduled it for over lunch so there will be plenty of time to talk and find contacts to follow up with later in the day, and after the event.
Registration for the UKAD Forum 2014 will open in January 2014 but if you do want to contribute a poster to showcase how standards have benefited you and your collections then please let us know by Christmas. Please email Cathy Williams, Secretary of the UKAD Steering Committee: cathy.williams @ nationalarchives.gsi.gov.uk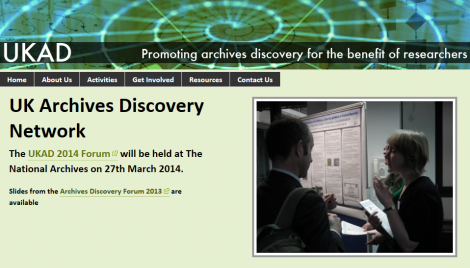 The UKAD – UK Archives Discovery Network objectives are:
To promote the opening up of data and to offer capacity for such a cross-searching capability across the UK archive networks and online repository catalogues
To lead and support resource discovery through the promotion of relevant national and international standards
To support the development and use of name authorities and indexing
To advocate for the reduction of cataloguing backlogs and the retro-conversion of hard-copy catalogues
To promote access to digitized and digital archives via cross-searching resource discovery systems
To work with other domains and potential funders to promote archive discovery