During this event organized by the School of Engineering, the activities of the DISIT laboratory of the University of Florence, in collaboration with the Municipality, the metereology laboratory LAMMA, and the CNR-IBIMET institute of the National Research Concil, were presented and demonstrated.
The DISIT Lab is part of the IT Engineering Department of the University and develops technologies in the field of big data, semantic indexing, user profiling, segmentation and behaviour analysis, socila media and smart services. Since 20 years the DISIT Lab is very active in EU and national/regional projects, developing solutions in the domains of Smart City, Smart Cloud, Smart Manufacturing, Social Media, social intelligence and realizing solutions and infrastructures such as Km4City, a Twitter Vigilance platform, APRETOSCANA and the performative arts social network ECLAP.
During the day it was possible to interact with the scientists and Lab coordinators, to see presentations and demonstrations, and to learn about the results of the knowledge and technology transfer to the industry, about the current projects and those which will be launched in the next period.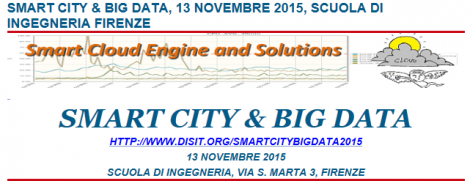 Programme:
9:00 Registration
9:30 Opening and welcome messages: UNIFI (Prorector for Research Prof. Marco Bindi, Prorector for Transfer Prof. Andrea Arnone); Comune di Firenze (councillor Lorenzo Perra); Regione Toscana; LAMMA (Dott. Bernardo Gozzini); DISIT (Prof. Paolo Nesi)
10:00 Session 1
DISIT: Overview towards Horizon 2020, presentation of  Km4city, Smart solution, data aggregator, API and open source.
Sii-Mobility project (by Paolo Nesi, DISIT.DINFO.UNIFI; Daniele Matteini, ECM)
REPLICATE project (by Alessandra Barbieri, Comune di Firenze)
Presentation of the Master in Big Data Analytics and Technologies for Management, MABIDA (by Prof. Cristiano Ciappei, UNIFI Economics)
11:00 Coffe break and access to the demo room
11:30 Session Two
Twitter Vigilance platform, a tool for evaluation of user sentiment and trends (by DISIT.DINFO.UNIFI)
Twitter Monitoring for environment and weather forecasts (by LAMMA and IBIMET CNR).
RESOLUTE project on city transports and mobility (by Emanuele Bellini, DISIT.DINFO.UNIFI),
COLL@BORA project on Social Innovation, (by Nicola Mitolo, DISIT.DINFO.UNIFI, and Evaristo Ricci, Modi di Dire Onlus)
Smart Cloud e Simulation Cloud (by Pierfrancesco Bellini, DISIT.DINFO.UNIFI)
12:30 Lunch, with access to demo room, and Info Desk including representatives of:
smart city: Km4city, Sii-Mobility, RESOLUTE e REPLICATE
Twitter Vigilance
Open Data, Linked Data, Linked Open Data, LOG.disit.org
Smart Cloud Engine e ICLOS: Cloud Simulator
Master in Big Data Analytics and Technologies for Management, MABIDA
MatchMaking solutions at APREToscana.
Organized with the collaboration of:
Universita' degli Studi di Firenze, DISIT Lab del DINFO, CSAVRI, ApreToscana, Master UNIFI MABIDA, Comune di Firenze, Lamma, CNR IBIMET.
With the patronage of :
Fondazione Ricerca Innovazione, Polo d'innovazione ICT Robotica, Distretto Tecnologico ICt Robotica della Toscana, Computer Gross, ECM, Swarco, Libero logico.
Committee:
• Alessandra Barbieri, Comune di Firenze
• Alfonso Crisci, CNR IBIMET
• Andrea Arnone, UNIFI
• Antonella Maraviglia, UNIFI
• Bernardo Gozzini, LAMMA
• Carlo Sorrentino, UNIFI
• Cristiano Ciappei, UNIFI MABIDA
• Gianluca Vannuccini, Comune di Firenze
• Laura Solito, UNIFI
• Lorenzo Perra, Comune di Firenze
• Marco Bindi, UNIFI
• Paolo Nesi, UNIFI DINFO DISIT
Secretariat:
• WEB PAGE: http://www.disit.org/smartcitybigdata2015
• Registration: http://smartcitybigdata.eventbrite.com/
• info @ disit.org
• Simonetta Ceglia, simonetta.ceglia @ unifi.it
• Landline: 0039 055-2758517