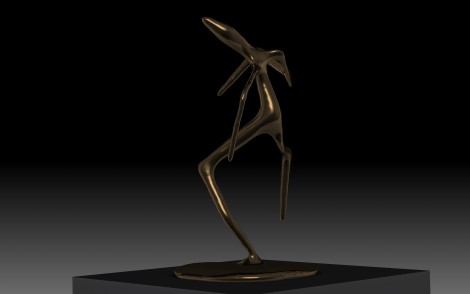 The piece is an evocation of the meaning of Time, with references to how the experience of the life forge the people. It is an interactive audio-visual installation.
In the hall there are installed some sculptures representing iconic bodies (you can find some of them in the photogallery).
Some dancers in the first part of the performance will lay down on the center of the hall under sheets. The bodies and the sculptures are painted on the surface with a material that let them in the darkness be visible.
During the first part of the performance a voice is recitating a poem about the Time.
Suddenly the voice will be covered by an electronic music and contemporary in the hall will be dark.
From under the sheets the dancers will roll out, simulating movements that test the possibilities and the limits of them bodies.
They will arrive very close to the visitors, following the music with movements that are representing the "cuts" of the Time. The Time of the experience is the knife that cut the unpredictable Unconsciousness, in our show simbolically the dance will "attack" the visitors.
Suddenly one of the spectators (that infact is a performer) will shout sentences of warning, of awaring.
At the end the sheets will be used to cover the visitors and push them to the center of the hall in the initial place of the dancers, becoming an un-formed unit.
At this time the light will slowly come back like in the beginning and the sheets will be slowly removed.
This is the end of the performance.
Download the project TechRider (PDF, 58 Kb)
*NIO ART STUDIO
A group of different artists who joined together in order to work in their respective fields of artistic expression of figurative, performing and digital arts, and also to carry on projects of fusion art. Their mother countries are China, Italy, and Australia.
Lighting Designer/Technical Director Situ XiaoChun travels with the company on tour.
Please contact him with any and all technical questions at:
situxiaochun@163.com
Contact Information for NioArtStudio, Executive Director Elisa Debernardi
Debernardielisa@gmail.com