A seminar presenting the Amman Nymphaeum Project took place at the Hashemite University of Zarqa, in Jordan, on Thursday 26th of February 2015. Aim was to highlight goals and objectives of the project for the conservation and restoration of the Nymphaeum of  Amman's downtown as well as the use of digital tools in the restoration process.
The full project team talked about the project in front of a hall crowded with students from the Queen Rania Institute of Tourism and Heritage. The students listened carefully to the project leader Dr Abeer Al Bawaab, of the Hamdi Mango Center for Scientific Research of the University of Jordan (executing authority of the project).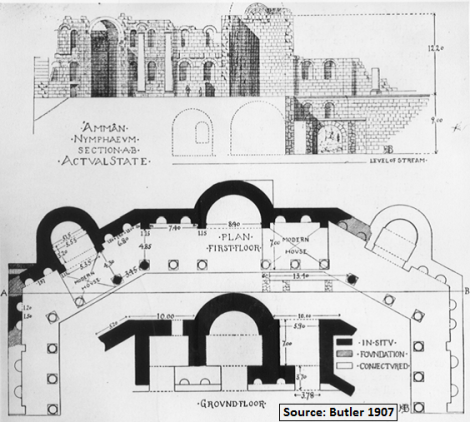 She explained what is going to be done in the two-year project in terms of rehabilitation and restoration of the Nymphaeum, mentioning that the project is granted by the US Ambassador's Fund for Cultural Preservation and reminding the importance of the role of heritage students in helping to halt the site's deterioration process.
Dr Yahia Al Shawabkeh, Dean of the Queen Rania Institute, talked in turn about his role and his expertise in architectural photogrammetry and 3D digital photography, very important techniques for the heritage preservation and documentation purposes.
Dr Mohammad El-Khalili from the Queen Rania Institute and Mr Nizar Al Adarbeh from the Ministry of Tourism and Antiquities, described the different phases and stages of the project.
Al Adarbeh explained that the project provides much on-site training and field surveying and this will be very useful to students and field professionals for improving their proficiency.
Dr El Khalili, fieldwork director, added this is a hands-on project including extensive field surveys which volunteer students are expected to take part in. Data and contacts of the students who would like to volunteer were indeed collected during the seminar.
During the discussion, the first issue of the Nymphaeum Newsletter was distributed among the students. The newsletter is an important component of the project, as it will contribute to the various documentation stages and provide information about data collection and material analysis.
The newsletter is part of the dissemination and communication activities of the project, which will include the use of social media.