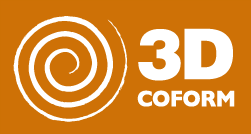 Discover how the world of 3D is helping to reveal the secrets of our cultural heritage. By taking a fresh look at some of the most iconic sites and artefacts in the world, this exhibition will literally change the way you look at history.
Some of the world's most famous museums, housing our most precious cultural treasures, are at the cutting edge of 3D technology innovation.  Come and see how this is helping us re-discover the hidden secrets of our past.  From the ancient Egyptian temple of Abu Simbel to Michelangelo's David; a fifteenth century Italian statue destroyed by an earthquake to the intricate detailing on medieval coins, this exhibition travels the world to bring you the latest in scientific innovation in the heritage sector.
The exhibition also shows the state of the art equipment: the Multiview Dome, which will be exhibited at the 3D-COFORM summer exhibition, will also be available for local organisations to test it. It is specifically designed to acquire artefacts with complex materials. Hence, we invite you to bring artefacts to be acquired for free!
The exhibition is opening on Friday 27 July 2012 and will run until Saturday 25 August 2012. The opening hours are Monday-Saturday, 10am-5pm.
It is being held at the University of Brighton Gallery,
Grand Parade Building,
68-72 Grand Parade,
Brighton, BN2 0JY
The exhibition website is: http://exhibition.3d-coform.eu/
There is also a seminar series running alongside.  The first seminar is on Monday 30 July at 17.00 and is being presented by Ruven Pillay from the Louvre in Paris.
Both the exhibition and seminars are free but you are requested to book online onto the seminars, as places are limited.
Downloads
The seminars programme:
PDF, 292 Kb
The exhibition leaflet:
PDF, 5,23 Mb
The exhibition poster:
PDF, 6,92 Mb