Q&A webinar on Dspace offered by EIFL

On the 28th of October 2013, a free Q&A (Question and Answer) seminar held online, offered by EIFL-FOSS and EIFL-OA. Topic of the webinar: Dspace, software of choice for academic, non-profit and commercial organizations building open digital repositories. Bram Luyten, DSpace Committer, and @mire, Dspace contributor and DuraSpace registered service provider, took part in it.

Bram Luyten gave a presentation of about 20 minutes providing an overview of the Dspace software functions and focusing on recent new features. The main body of the webinar was however a Q&A session with the audience.
DSpace is an open source repository application developed by the community and stewarded by DuraSpace. It is free and easy to install "out of the box" and completely customizable to fit the needs of any organization. It preserves and enables easy and open access to all types of digital content including text, images, moving images, mpegs and data sets. Its ever-growing community of developers is committed to continuously expanding and improving the software. The DSpace Committers Group – so named because they are authorized to "commit" change to the code repository – have ultimate responsibility for the shape of the DSpace software, as well as its architecture and design going forward. They can apply code changes contributed by the larger DSpace development community to the open source platform.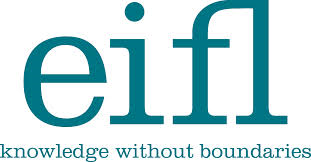 DSpace is currently used by over 1400 organizations and is consistent with EIFL line. EIFL (Electronic Information for Libraries) is an Europe-based not-for-profit organisation with a global network of partners. It works in collaboration with libraries in over 60 developing and transition countries in Africa, Asia, Europe and Latin America to enable their access to digital information. With its two programmes EIFL-OA (EIFL Open Access) and EIFL-FOSS (EIFL Free and Open Source Software) aims to provide developing and transition countries with affordable, accessible, up-to-date software and to maximize their access to knowledge.




For more information:

http://www.dspace.org/

http://atmire.com/website/

http://www.eifl.net/events/qa-webinar-dspace

DSpace-diagram - PDF