by our correspondant Lucia Ruggiero
Brian James McGuire's 'She leaves the city (II)' experimental short film piece won first prize winner at the Alys Beach Graffiti Festival. Digital Graffiti at Alys Beach is the world's first projection art festival, with artists using the latest technologies to project their original works onto the town's iconic white walls.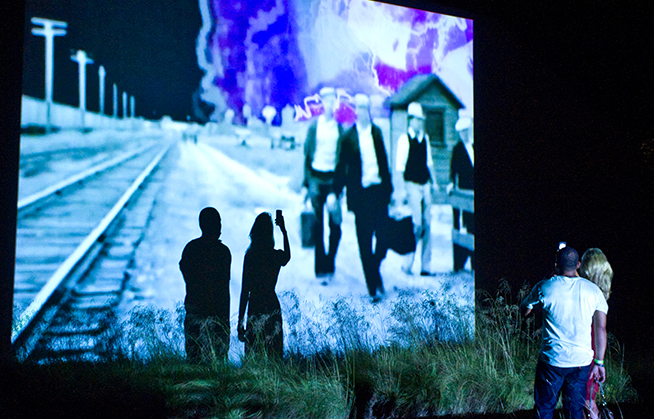 'She leaves the city (II)' is the second part of a series of short film pieces. The first part was on show last year at the Milwaukee film festival and the San Gio Verona video festival. 'She leaves the city' is a sparkling array of shadows, light and glimmering images
The winners in other categories, who all received an equal amount of prize money were judged in the areas of "best of Florida" (Shane Sauer, 'Permanent impression') "best animation" (Phyllis Bulkin Lehrer, 'Doggone') "most innovative" (Holly Danger, 'Soul Seasons'), "most experimental" (Jason Bernagozzi, 'Citystream') and "curator's choice" (Shannon Kate, 'Ohio Skyscape').
The winning pieces are all incredibly diverse in content and concept. While some feature more abstract images and shapes, such as Lehrer's piece, others concentrate more on the use of light and images to capture particular sentiments provoked by nature and the seasons, such as in the particularly beautiful piece by Holly Danger. Danger used 1000 pieces of ripped paper in her design, as well as graphic design and a green screen, gaining her the well-deserved prize for the most innovative piece.
Watch 'She leaves the city' by Brian James McGuire: http://brianjamesmcguire.blogspot.co.uk
Watch Holly Danger's 'Soul Seasons' on vimeo: http://vimeo.com/56126274
Watch Phyllis Bulkin Lehrer's 'Doggone' on vimeo: http://vimeo.com/60291123
Watch Jason Bernagozzi's 'Citystream' on vimeo: http://vimeo.com/51891709
Watch Shannon Kate's 'Ohio Skyscape' on vimeo: http://vimeo.com/54540204
Official website for the Alys Beach Digital Graffiti Festival: http://www.digitalgraffiti.com/sb1/