Article by Lucia Ruggiero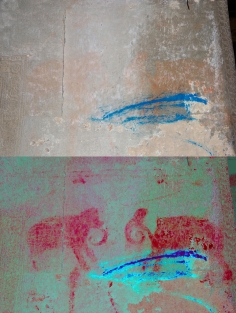 New technological methods have been used in the discovery of drawings, or 'graffiti', on the walls of the temple, Angkor, in Cambodia. Every year, thousands of tourists visit the 900-year-old temple, but we can suspect that digital enthusiasts and those interested in historical sites will have even more of a reason to visit the site after this new discovery. PhD student, Noel Hidalgo Tan, of the Australian National University, discovered markings and smudges on the outer walls of Angkor four years ago and took photographic evidence of them. When studying the photographs he realised that the 'smudges' were actually elaborate drawings and this led to a formal, academic investigation. Hidalgo Tan used decorrelation stretching of the photographs while examining them, a method which was originally developed for satellite mapping.
This means that small details that the naked eye usually cannot see are made more visible. Through use of this digital method, subtle markings on images became much clearer and were represented digitally in striking blue and red tones. Overall, around 200 paintings on the walls of Angkor were identified, including animals, deities and mythological character, and the findings of the research were published last month in a journal called Antiquity. The discoveries made at Angkor demonstrate to us the enormous capacity of new digital technology to influence academic disciplines that move above and beyond developing new media and new technology itself. Digital methods are proving useful in the world of archaeology, not only in preserving historical sites, as the Cyark project does, but also in leading to important new historical findings and evidence.
More information: http://www.scmp.com/lifestyle/technology/article/1542523/hi-tech-technique-reveals-hidden-graffiti-walls-angkor-wat
(Photos: © Keith Mundy and scmp.com.)