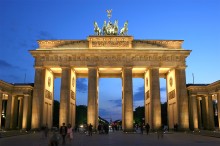 The Deutsche Digitale Bibliothek (DBB) and its Service Office for Digitalisation organises the "Open Data Culture Hackathon" event in association with Wikimedia Germany and the Open Knowledge Foundation Germany. The event will be held in Berlin on April 26 and 27, 2014.
The aim of the two days event shall be the development of applications, mobile apps, and innovative business cases based on available (open) data collection in the domain of culture from various museums. The participating museums provide open data collections and roughly define challenges and requirements to the expected and invited developers. Fraunhofer is able to actively influence the challenges and requirements, very similar to what PREFORMA is doing right now.
It is expected to have German museums actively participating or at least promoting and offering their cultural open data collections, among those are the German National Library, the German Archive on Films and Movies, the German Fotothek, the German Museum on Computer Games, the Museum for Natural Science, the Ethnological Museum, and the Berlin Gallery and other smaller Berlin museums.
Fraunhofer's Cluster on ICT became one of the supporting partners of the event and thus aims at running its own track on existing and emerging activities and projects in the domain of cultural open data. The event offers to Fraunhofer IDMT the opportunity to get in closer touch with the German museums and memory institutions (perhaps future members of the advisory board) that are considered active players in the domains of archiving, digitalization, preservation, big data, and open data. Furthermore, the participating developers (mostly SMEs and Start-Ups) offer their new and innovative applications and mobile apps in an open competition (very similar to what PREFORMA is preparing right now), and shall be possible to attract some of these developers for the PREFORMA Call for Tenders to publish about one month later.