from our UK correspondent Lucia Ruggiero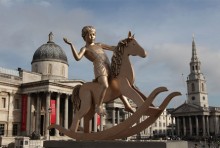 A beautiful new sculpture which is set to change the way digital media communicates and connects with traditional art forms was recently unveiled on the fourth plinth in Trafalgar Square in central London.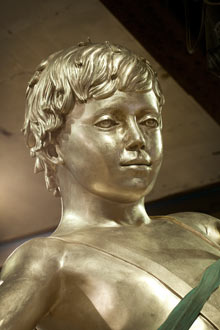 The polished, bronzed sculpture features a young boy riding a rocking horse and is entitled 'Powerless Structures, Fig 101.' Its creators, the contemporary artists Elmgreen and Dragset describe it as 'a public sculpture, which, rather than dealing with topics of victory or defeat, honours the every day battles of growing up.'
As refreshing a take on art commissions for Trafalgar Square as 'Powerless Structures, Fig 101' may be, what is even more inspiring, is the way the sculpture interacts with digital media.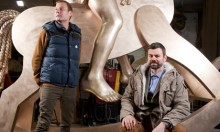 When passers by aim their smartphones at the sculpture, after having installed the required app available on Android and the iPhone called 'Aurasma', they are able to see a rotating 3D version of the sculpture on their phone. Thus a new way of transferring artistic objects from the real world into the virtual one has been achieved, and users of the app can add their own 3D projections of images to the database.
This new interactivity between the digital world and physical art forms is still in its early stages, but we are witnessing the internet and mobile technology creating endlessly new perspectives through which we can engage with art.
Focus on and further info:
http://www.london.gov.uk/fourthplinth/content/elmgreen-and-dragset
http://www.guardian.co.uk/artanddesign/2012/feb/23/sensitive-fragile-trafalgar-squre-fourth-plinth
http://www.guardian.co.uk/artanddesign/2012/feb/19/elmgreen-dragset-trafalgar-fourth-plinth